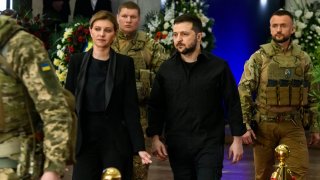 This was CNBC's live blog tracking developments on the war in Ukraine on Sunday. See here for the latest updates. 
Ukraine and Poland have agreed to work on joint border controls as well as a shared railway company to relieve the movement of people and grow Ukraine's export potential.
Meanwhile, Ukrainian President Volodymyr Zelenskyy has said that only diplomacy will end the war with Russia, as his top officials rule out a ceasefire or ceding any territory.
Russia continues its push into the Donbas with heavy strikes on numerous cities in eastern Ukraine.
We're making it easier for you to find stories that matter with our new newsletter — The 4Front. Sign up here and get news that is important for you to your inbox.
Poland's president became the first foreign leader to give a speech in person to the Ukrainian parliament since Russia's Feb. 24 invasion.
Ukraine and Poland to work on joint border controls and shared railway company
Ukraine and Poland have agreed to work on joint border controls as well as a shared railway company to relieve the movement of people and grow Ukraine's export potential, Reuters reported.
Ukraine's Infrastructure Minister Oleksander Kubrakov said that the two countries are also working to ease the transport of Ukrainian goods to the European Union, Reuters reported.
"We are also working on the creation of a joint venture railway company to increase the export potential of the Ukrainian economy," Kurbakov said in a statement, according to Reuters.
"(Joint customs control) will significantly speed up border procedures. It will remove most of the corruption risks," added Ukrainian President Volodymyr Zelenskyy in his nightly address.
"But it is also the beginning of our integration into the common customs space of the European Union. That is a truly historical process," he added.
Zelenskyy previously said Russia has halted exports of 22 million tons of food by blocking almost all Ukrainian ports.
Ukraine's Ministry of Internal Affairs reported that about half of the 6.2 million Ukrainians who fled the country due to the war now reside in Poland.
— Chelsea Ong
Zinchenko's tearful support for Ukraine after Premier League title win
The Ukrainian flag Oleksandr Zinchenko used to wipe away the tears also inspired Manchester City's Premier League title winner.
As Zinchenko paraded around the field with the trophy, the yellow-and-blue colors of his homeland were wrapped around him. Then the weeping Ukraine international set the trophy down on the field and draped it in the flag — sending out another powerful message in support of his nation as it fights back against the Russian invasion.
"It's unforgettable emotions for me, for all the Ukrainians who at the moment are starving," Zinchenko said after Sunday's 3-2 win over Aston Villa sealed the title. "They are surviving in my country because of Russian aggression. I'm so proud to be Ukrainian, and I would love to one day bring this title to Ukraine, for all Ukrainian people, because they deserve it."
More than 6 million people have fled Ukraine since the start of the war on Feb. 24, according to the United Nations refugee agency. Zinchenko has raised money for the refugees and used social media to highlight Russian atrocities.
"At some point, especially in the beginning, I didn't think too much about football because it is impossible to live with what is happening in my country," Zinchenko said. "But with all the support which I had during this period, we did it."
Zinchenko played a pivotal role on the field in securing the victory over Villa that ensured the team held off Liverpool's challenge by one point, giving him and City a fourth title in five seasons.
The left back came on at halftime to replace struggling 37-year-old captain Fernandinho when their team was trailing 1-0 and he set up Rodri for the goal that tied the season finale at 2-2 before Ilkay Gündogan grabbed City's third goal in a five-minute spell.
— Associated Press
Ukraine top of the agenda in Davos as business leaders gather
Russia would normally have its own "house" at the World Economic Forum as a showcase for business leaders and investors.
This year the space on the dressed-up main street in Davos has been transformed by Ukrainian artists into a "Russian War Crimes House", portraying images of misery and devastation.
Russia has denied allegations of war crimes in the conflict.
Ukraine is top of the agenda for the four-day meeting of global business leaders, which kicks off in earnest on Monday with a video address by Ukrainian President Volodymyr Zelenskyy.
"This is the world's most influential economic platform, where Ukraine has something to say," Zelenskyy said in his daily video address on Sunday night.
As the WEF meeting emerges from a coronavirus pandemic hiatus of more than two years, a deferral from January to May means that attendees are surrounded by spring flowers and verdant slopes rather than navigating icy streets.
But not only the weather is different in 2022, with Russian politicians, executives and academics entirely absent.
Russian institutions such as its sovereign wealth fund, state banks and private companies have in previous years thrown some of the most glitzy parties, serving black caviar, vintage champagne and foie gras.
They even hired Russia's most prominent musicians and pop stars to perform for top chief executives.
— Reuters
UK's Johnson discussed Russia's blockade of Odesa with Ukraine's Zelenskyy
UK Prime Minister Boris Johnson discussed with Ukrainian President Volodymyr Zelenskyy Russia's blockade of Ukraine's shipping port Odesa, a Downing Street spokesperson said.
Johnson resolved to redouble efforts to provide vital food and humanitarian aid to the people of Ukraine and ensure the country was able to export to the rest of the world, the spokesperson added.
— Reuters
U.S. could send special forces to guard Kyiv embassy, report says
The U.S. is considering sending special forces troops to Kyiv to guard its recently reopened embassy, The Wall Street Journal reported.
President Joe Biden has not yet been presented with the proposal, the Journal reported.
The forces would be deployed solely to protect the embassy, according to the report. Still, the administration must balance its concerns of provoking Russian President Vladimir Putin and its fears for the safety of American diplomats in the region, since it is located within range of Russian missiles, the paper said.
Officials are also reportedly considering restoring a Marine security guard detachment, in addition to brining in special forces troops.
Secretary of State Antony Blinken ordered the U.S. Embassy in Kyiv closed on Feb.14, citing the "dramatic acceleration in the buildup of Russian forces" on Ukraine's border. Officials reopened the embassy last week after Russia shifted its forces to eastern Ukraine.
Read the full report from The Wall Street Journal here.
— Jessica Bursztynsky
About half of Ukrainians who have fled the war now reside in Poland, new data shows
Ukraine's Ministry of Internal Affairs has reported that more than 6.2 million Ukrainians have exited the country since the war began, with most, more than 5 million, relocating to countries in the European Union.
Of those who have moved to the EU, 3 million have been residing in Poland, which has been a big supporter of Ukraine. Polish president Andrzej Duda addressed Ukrainian lawmakers in person Sunday, saying only Ukraine can decide its future.
The Ministry also said about 1 million Ukrainian citizens have registered for temporary protection in EU countries.
— Tanaya Macheel
Ukraine must decide its own future, says Poland's president
Only Ukraine has the right to decide its future, the Polish president told lawmakers in Kyiv on Sunday, as he became the first foreign leader to give a speech in person to the Ukrainian parliament since Russia's Feb. 24 invasion.
Kyiv has ruled out any peace deal that would involve it ceding territory and has dismissed calls for a ceasefire that would involve Russian forces remaining in territory they have occupied, saying this would simply give Moscow time to rebuild its forces.
"Worrying voices have appeared, saying that Ukraine should give in to Putin's demands," Andrzej Duda said. "Only Ukraine has the right to decide about its future... nothing about you without you," he added, to a standing ovation in the chamber.
Duda said that the international community must demand that Russia completely withdraw from Ukrainian territory.
"If Ukraine is sacrificed for... economic reasons or political ambitions — even a centimeter of its territory — it will be a huge blow not only for the Ukrainian nation, but for the entire Western world," Duda said.
Ukrainian President Volodymyr Zelenskyy called the speech a "historic moment."
— Reuters
Ukraine extends martial law another 90 days
The Ukrainian Parliament has extended the country's martial law for another three months, until Aug. 23, according to its official Telegram channel.
Ukrainian President Volodymyr Zelenskyy first imposed military control in late February when Russia launched its attack on the country and reportedly sought the extension on May 18.
— Tanaya Macheel
A POW's legacy of Mariupol siege pictures
For nearly three months, Azovstal's garrison clung on in the Mariupol steel plant, refusing to be driven out from the tunnels and bunkers under the ruins of the labyrinthine mill. Because of its tenacious defense, not only were Russian troops who had captured the rest of Mariupol unable to declare victory, they couldn't even all be peeled away to fight in battles on other Ukrainian fronts.
Both sides were trapped, in an enduring image of the monthslong war.
Photographer-soldier Dmytro Kozatsky was among them, on the Ukrainian side. He is now a prisoner of war. His photos are his legacy.
— Associated Press
Ukrainian first lady details war's impact on her family
Ukrainian first lady Olena Zelenska detailed the war's impact on her family, saying they were basically ripped apart like much of the nation, according to The Washington Post.
Zelenska and President Volodymyr Zelenskyy sat down for a joint television interview with ICTV, making it only the second time the couple has appeared together since the invasion began, the Post reported.
"Our family was torn apart, as every other Ukrainian family," Zelenska said. "He lives at his job. We didn't see him at all for 2 1/2 months."
Zelenska has kept a low profile since the war began. She made a public appearance for the first time earlier this month when meeting with U.S. first lady Jill Biden in Ukraine. Zelenskyy warned in February that he was Russia's "target No. 1" and his family was "target No. 2."
Read the full report from The Washington Post here.
— Jessica Bursztynsky
Sanctions have 'practically broken all logistics' in Russia, transport minister says
Western sanctions on Russia have stymied logistical routes for trade across the country, Transport Minister Vitaly Savelyev said, according to state media outlet TASS.
"The sanctions that have been imposed on the Russian Federation today have practically broken all logistics (corridors) in our country. And we are forced to look for new logistics corridors together," he said.
— Natasha Turak
Mariupol is on the brink of a health and sanitation 'catastrophe', mayor warns
The destroyed city of Mariupol is on the verge of a major health crisis, its Mayor Vadim Boychenko said, brought on by the shallow burials of people left in mass graves by Russian forces, the warming weather, the breakdown of sewage systems and summer rains.
"In addition to the humanitarian catastrophe created by the (Russian) occupiers and collaborators, the city is on the verge of an outbreak of infectious diseases," Boychenko wrote on the messaging app Telegram. He warned that water sources could become contaminated as well, and urged Russian forces to let residents safely leave the city.
Mariupol has seen some of the worst human suffering of any city in Ukraine, and has been completely blockaded by Russian forces since the start of March. Its strategic position as a southern port city makes it a key target for Russia as it would provide a land border between Crimea, which was annexed by Russia in 2014, and Russian separatist-backed territories in the east.
Ukrainian officials say that the once-thriving city with a pre-war population of 500,000 has been "wiped off the map."
— Natasha Turak
Russia presses Donbas offensive as Polish leader visits Kyiv
Russia pressed its offensive in Ukraine's eastern Donbas region Sunday as Ukrainian President Volodymyr Zelenskyy said the outcome of the grueling conflict would determine whether his country's fate lies with the West or under Moscow's domination.
After declaring its full control of a sprawling seaside steel plant that was the last defense holdout in the port city of Mariupol, the Russian military launched artillery and missile attacks in Ukraine's industrial heartland, seeking to expand the territory Moscow-backed separatists have held since 2014.
In a Saturday night video address to the nation, Ukrainian President Volodymyr Zelenskyy described the situation in the Donbas as "really hard" but "the fact that we are able to say this on the 87th day of a full-scale war against Russia is good news."
"Every day that our defenders take away from these offensive plans of Russia, disrupting them, is a concrete contribution to the approach of the main day. The desired day that we are all looking forward to and fighting for: Victory Day," Zelenskyy said.
Zelenskyy's remarks came as Poland's president prepared to meet with him to support Ukraine's goal of becoming a candidate for European Union membership, an issue set to be decided at an EU summit in late June.
As the West rallies behind Ukraine, Polish President Andrzej Duda made an unannounced visit to Kyiv and on Sunday became the first foreign leader to address the Ukrainian parliament since the start of the war.
— Associated Press
Zelenskyy says Russia has blocked exports of 22 million tons of food
Ukrainian President Zelenskyy has warned of a food crisis to follow the energy crisis as its ports, from which vital exports of agricultural produce are exported to the rest of the world, remain blocked by Russian forces and attacks.
"The world community must help Ukraine unblock seaports, otherwise the energy crisis will be followed by a food crisis and many more countries will face it," Zelenskyy said.
"Russia has blocked almost all ports and all, so to speak, maritime opportunities to export food -- our grain, barley, sunflower and more. A lot of things."
"There will be a crisis in the world," he warned. "The second crisis after the energy one, which was provoked by Russia. Now it will create a food crisis if we do not unblock the routes for Ukraine, do not help the countries of Africa, Europe, Asia, which need these food products."
Before the war, more than 95% of Ukraine's total grain, wheat and corn exports was shipped out via the Black Sea, and half of those exports went to countries in the Middle East and North Africa. The region is already facing severe food inflation and shortages.
— Natasha Turak
Poland's president visits Kyiv to deliver speech to Ukraine's parliament
Polish president Andrzej Duda is in Kyiv to make a speech to Ukraine's parliament, the Verkhovna Rada, making his the first foreign head of state to do so since Russia invaded Ukraine on February 24.
Duda arrived in the capital on Saturday and "will deliver the address as the first head of a foreign state since the outbreak of the war," his office said in a statement. Poland has been a staunch supporter of Ukraine since the war began and has taken in nearly 3.5 million Ukrainian refugees, more than half of the total exodus from the country so far.
— Natasha Turak
Russia's only unit of Terminator tank support vehicles is believed to be in the Donbas: UK MoD
The U.K.'s Ministry of Defence believes that Russia's only operational company of BMP-T Terminator tank support vehicles has likely been deployed to Severodonetsk in Ukraine's eastern Donbas, where Russian forces are heavily concentrating strikes to gain territory.
The use of these vehicles suggests that a body called the Central Grouping of Forces (CGF) is part of the attack, the ministry said in a tweet, as it is the only formation that has them. "CGF previously suffered heavy losses while failing to break through to eastern Kyiv in the first phase of the invasion," the ministry's latest daily intelligence update read.
"The Severodonetsk area remains one of Russia's immediate tactical priorities. However, with a maximum of ten Terminators deployed they are unlikely to have a significant impact on the campaign," it added.
— Natasha Turak
As Russia intensifies push for Donbas, Ukraine rules out ceasefire
Ukraine ruled out a ceasefire or concessions to Moscow as Russia intensified an offensive in the eastern Donbas region and stopped providing gas to Finland.
After ending weeks of resistance by the last Ukrainian fighters in the strategic southeastern city of Mariupol, Russia is waging what appears to be a major offensive in Luhansk, one of two provinces in Donbas.
Russian-backed separatists already controlled swathes of territory in Luhansk and the neighboring Donetsk province before the Feb. 24 invasion, but Moscow wants to seize the last remaining Ukrainian-held territory in Donbas.
"The situation in Donbas is extremely difficult," Ukrainian President Volodymyr Zelenskyy said in his nightly address. The Russian army was trying to attack the cities of Sloviansk and Sievierodonetsk, but Ukrainian forces were holding off their advance, he said.
Earlier, Zelenskiy told local television that while the fighting would be bloody, the end would come only through diplomacy and that the Russian occupation of Ukrainian territory would be temporary.
Zelenskyy adviser Mykhailo Podolyak ruled out agreeing to a ceasefire and said Kyiv would not accept any deal with Moscow that involved ceding territory. He said making concessions would backfire on Ukraine because Russia would hit back harder after any break in fighting.
"The war will not stop (after concessions). It will just be put on pause for some time," Podolyak, Ukraine's lead negotiator, told Reuters in an interview in the heavily guarded presidential office.
"They'll start a new offensive, even more bloody and large-scale."
— Reuters
Biden tweets video of signing $40 billion Ukraine aid package amid South Korea visit
President Joe Biden tweeted a video of himself signing legislation authorizing an additional $40 billion in U.S. aid to Ukraine in its fight against Russia.
Biden inked the aid boost, which was overwhelmingly approved by Congress this week, during his state visit to Seoul, South Korea.
"This law will allow us to continue sending security, economic, and humanitarian assistance to the people of Ukraine as they continue to defend their democracy and freedom," the tweet from Biden's official White House Twitter account said.
Biden also during his visit signed the Access to Baby Formula Act, which is designed to alleviate a nationwide shortage of formula in the United States.
Both bills were flown to South Korea by a U.S. government official on a commercial jet who was already planning to travel to Asia for work-related duties, a White House official told NBC News.
— Dan Mangan
Trump not on Russia's list of banned Americans that includes Biden, Harris
Russia on Saturday released a list of nearly 1,000 Americans who are now permanently barred from entering the country, an action likely in response to sanctions imposed on the nation following its February invasion of Ukraine.
The list includes President Joe Biden, Vice President Kamala Harris, Facebook's Mark Zuckerberg, Hillary Clinton and George Soros. It also names 211 Republicans and 224 Democrats from both the House of Representatives and the Senate.
There are also a few notable omissions. Former President Donald Trump and Mike Pence, who served as his vice president, are not included. Former President Barack Obama is also not on the list.
A spokesperson for Trump did not immediately respond to a request for comment.
Read more here.
— Carmen Reinicke
Read CNBC's previous live coverage here:
Russia may be running out of crucial targeting drones; brutal siege of Mariupol steel plant ends
Copyright CNBCs - CNBC