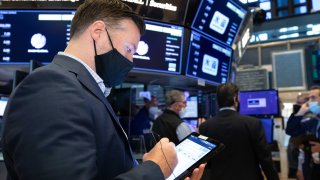 U.S. Treasury yields were little changed Tuesday amid concerns about a slowdown in growth.
The yield on the benchmark 10-year Treasury note inched less than a basis point higher to 1.174% at 4:00 p.m. ET. The yield on the 30-year Treasury bond fell slightly to 1.846%. Yields move inversely to prices and one basis point equals 0.01%.
The 10-year yield fell to 1.15% on Monday, after data showed the U.S. manufacturing sector expanded at a slower pace in July than in the previous month.
The spread of the delta coronavirus variant was also a concern for investors. The seven-day average of daily coronavirus cases in the U.S. reached 72,790 on Friday, surpassing the peak seen last summer when the nation didn't have an authorized Covid-19 vaccine, according to data compiled by the Centers for Disease Control and Prevention.
In addition, Federal Reserve Governor Christopher Waller told CNBC on Monday that the central bank could start tapering its bond purchases as early as October.
Garrett Melson, a portfolio strategist with Natixis Investment Managers Solutions, said there's a tendency for market participants to equate taper talk with incoming rate hikes — a view he said is incongruous with the current environment, which is "very different from what we had back in 2013 with the taper tantrum," he told CNBC.
While that narrative plays into day-to-day movement anyway, Melson said he thinks yields have pushed so low because of a shortage of high-quality fixed-income assets.
"Pension funds, insurance companies, all these companies that and entities that have to match liabilities, they just have to buy duration regardless of the price and that's part of what you've seen play out over the last couple of months," he said.
Duration is the time it takes for investors to be repaid the price of a bond, by the cash flow of a bond.
"We probably overshot to the upside back in March, and we've just seen a steady compression in rates on the back of that because a lot of these investors simply need to buy duration, and that's continuing to push the yield lower."
— CNBC's Yun Li contributed to this market report.
Copyright CNBCs - CNBC