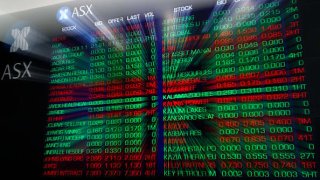 Shares traded mostly lower across Asia-Pacific markets, lead by steep losses in Hong Kong where the Hang Seng index tumbled more than 3% in the afternoon.
Singapore's Straits Times Index bucked the downward trend to gain 1.3%.
Overnight, Federal Reserve Chair Jerome Powell said in his testimony to Congress that the U.S. economy is a long way from its employment and inflation goals.
He said that it will likely take time for substantial further progress to be achieved, and that inflation is still "soft."
SINGAPORE — Shares traded mostly lower across Asia-Pacific markets on Wednesday as investors turned cautious, despite remarks overnight from Federal Reserve Chair Jerome Powell that attempted to ease some worries around higher interest rates and inflation.
In Australia, the benchmark ASX 200 fell 0.9% to 6,777.80, led by losses in most sectors, including a 0.45% drop in the heavily weighted financials subindex. Among the so-called Big Four banks in the country, ANZ shares were down 0.67%, Commonwealth Bank shares were down 0.61%, and Westpac fell 0.46%. National Australia Bank shares reversed earlier losses to trade up 0.2%.
Japanese markets returned to trade after being shut for a public holiday on Tuesday. The Nikkei 225 fell 1.61% to 29,671.70 while the Topix index declined 1.82% to 1,903.07.
South Korean shares also fell as the Kospi index dropped 2.45% to 2,994.98. The Kosdaq index declined by 3.23% to 906.31.
Chinese mainland shares also traded lower: The Shanghai composite dropped 1.99% to 3,564.08 while the Shenzhen component index fell 2.44% to 14,870.66.
Hong Kong's Hang Seng Index tumbled nearly 3% in late-afternoon trade. The Hong Kong government said it will spend more than $15 billion in the coming financial year on measures to bolster its recession-struck economy.
In Singapore, the Straits Times Index bucked the general downward trend to advance 1.36% in the afternoon.
The session in Asia followed a mixed finish on Wall Street, where the Dow Jones Industrial Average reversed steep losses following Powell's remarks.
Powell testimony
Powell said in his testimony to U.S. Congress that the American economy is a long way from its employment and inflation goals and that it will likely take time for substantial further progress to be achieved. He added that inflation is still "soft" and that the Fed is committed to current policy.
Central banks are taking a mixed view on the rise in yields, according to Tapas Strickland, director of economics and markets at the National Australia Bank.
"Chair Powell has managed to tread that fine line of endorsing market moves, but not adding to them by re-iterating his dovish stance," Strickland wrote in a morning note.
Australian wage growth slows
Wages in Australia grew at their slowest pace on record annually, according to the Australian Bureau of Statistics. Data showed the wage price index grew 0.6% for the three months that ended in December. The annual wage growth remained at a record low of 1.4% for the second consecutive quarter.
The ABS said professional, scientific and technical services recorded the highest quarterly rise of wage growth and the main driver was the "unwinding of short-term wage reductions" to pre-Covid levels.
The wages growth data underscores challenges Australian policymakers face in spurring inflation in the economy where interest rates are already at record lows — it is likely that Australia's central bank may not raise rates anytime soon.
The Reserve Bank of Australia has said that there needs to be a sustained period of labor market tightness to generate the wages growth needed to see inflation return to the central bank's 2%-3% target range. Only then, would the central bank move to increase its cash rate.
Currencies and oil
In the currency market, the U.S. dollar traded lower by 0.09% at 90.08 against a basket of its peers, after earlier touching lows around 89.982. The Australian dollar changed hands at $0.7914, weakening from an earlier level of $0.7944, while the Japanese yen was at 105.55 per dollar.
The greenback "fell in line" with U.S. equities following Powell's Congressional testimony, but the moves in the currency were "modest," according to Carol Kong, a currency strategist at the Commonwealth Bank of Australia.
Better U.S. and global growth prospects remain consistent with a downtrend in the counter-cyclical dollar, Kong said.
Elsewhere, oil prices dipped. U.S. crude futures were down 0.28% at $61.50 a barrel on Wednesday during Asian trading hours, while global benchmark Brent was 0.03% higher at $65.39.
Subscribe to CNBC PRO for exclusive insights and analysis, and live business day programming from around the world.
Copyright CNBCs - CNBC