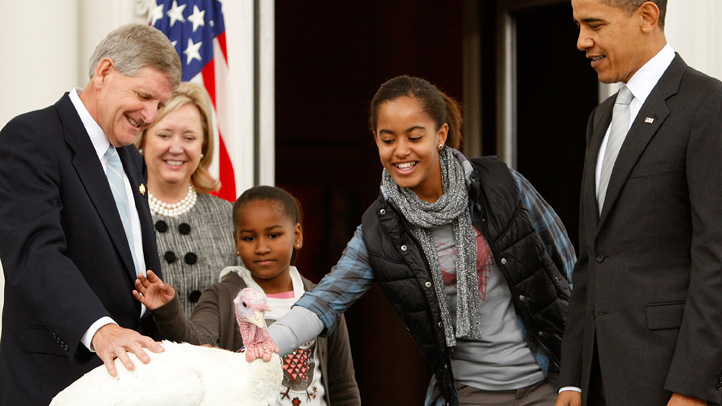 In 1971, Nixon skipped the turkey pardoning ceremony to go to the Redskins training camp instead, and we all know how his presidency turned out.
Turkeys have a long history in the United States -- sometimes we eat them, sometimes we pardon them, sometimes we... admire them?
"I am on this account not displeased that the Figure is not known as a Bald Eagle, but looks more like a Turkey," Benjamin Franklin once wrote in a letter to his daughter. "For... the Turkey is in Comparison a much more respectable Bird... He is besides, though a little vain & silly, a Bird of Courage, and would not hesitate to attack a Grenadier of the British Guards who should presume to invade his Farm Yard with a red Coat on."
Weird historic capitalization aside, maybe Franklin is the root of the White House tradition to issue a presidential "pardon" for a turkey each year.
According to D.C. food blog Obama Foodorama, last year President Obama compared the selection process to reality TV:
"It's kind of like a turkey version of 'Dancing With the Stars,' except the stakes for the contestants was much higher," Obama said. (Yeah, seems more like "Survivor" to us.)
"Only one pair would survive and win the big prize: Life -- and an all-expenses-paid trip to Washington," he said.
Historians debate on when the first turkey escaped becoming dinner. Some believe the tradition started in the Lincoln years, citing an 1865 dispatch from Noah Brooks who mentions that Lincoln's son Tad asked for a turkey to be saved from getting eaten for Christmas.
Others believe Harry Truman was the first to cut turkeys some slack -- and yeah, the 90-year difference is a little puzzling.
Truman's administration encouraged a Thanksgiving without poultry, much to the shock of the nation in 1947. His "poultryless Thrusdays" campaign was meant to run from September through November, but when poultry-eating advocates sent two turkeys for Truman's Christmas feast, he definitely planned on popping those birds in the deep fryer.
In 1961, Kennedy pardoned a turkey described by the White House Historical Society as "a majestic 55-pound white turkey," but the tradition was not formalized until 1989 by George H. W. Bush.
Dubya truly relished the tradition, pardoning 14 turkeys over his time as president, and so far Obama's been pretty into giving birds a break as well.
These contemporary turkeys also get some hokey names. Last year's pair were named Apple and Cider. This year's lucky duo hail from Minnesota, and will likely get a night's stay at a classy hotel. Last year's were put up at the W Hotel.
Want to have a say in this year's naming? Check out Minnesota Turkey's Facebook page and vote here. But Lutefisk and Lefsa... who put that combination on the list? Is it too late to petition the names Kim and Kris?
Regardless of whatever unfortunate names these birds get christened with, they're escaping with their lives, and will enjoy a comfortable retirement at George Washington's historic Mount Vernon Estate.
One thing they won't get? A trip to Disneyland. Between 2005 and 2009, the turkeys mingled with Mickey, but no more. Seems like the economy's putting a crimp in everyone's travel plans.
Check Out the Scene: Keep up with what's happening in the D.C. area anytime, anywhere. Follow us on Twitter and Facebook. Sign up for our e-mail newsletters.