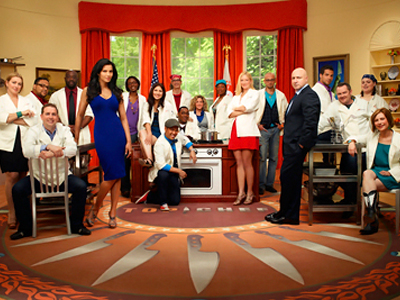 The best and worst of Bravo is coming to town.
Tomorrow night, "Top Chef" enters its seventh season, and, as DCist writes, "along with another chance to see how our city looks through the eyes of a reality television camera, local fans get two local chefs to cheer for during the competition" – native Washingtonian Timothy Dean and D.C. resident Tamesha Warren, just 24, who moved here from Barbados.
Besides being a treat for foodies, "Top Chef" is always a celebration of creativity and healthy ambition. So, pick up your remote, and dig in.
On the other end of the "reality" spectrum is the latest entry in Bravo's insipid, soul-crushing "Real Housewives" franchise, which also focuses on our fair city.
If "Top Chef" contestants are inspired by the likes of Wolfgang Puck and Mario Batali, the "Housewives" aspire to the path set by Paris Hilton and Heidi Montag. They are plastic people with plastic bodies, famous without achievement, only notable for their ability to throw money away.
So it's no surprise that alleged White House state dinner crasher Michaele Salahi will be the marquee "housewife" when the show debuts on August 5. The show went into production shortly after President Obama's inauguration, nearly a year before the Salahis stormed into public attention -- which suggests the incident may have been a stunt for the show.
Michaele, who calls herself a "fun television personality" and "sought-after guest on International news and entertainment television shows worldwide," leads a gaggle of "housewives" that includes Mary Schmidt Amons, dubbed "the true Washingtonian and granddaughter of radio and TV personality Arthur Godfrey" by Bravo, and "feisty Brit" Catherine Ommanney, who is "married to a White House photographer."
Also on hand is Lynda Erkiletian, "the mother hen and owner of D.C.'s top modeling agency" -- which as one Washington Post commenter writes, is "like being the chief economist at Bismarck, North Dakota's top econometrics consulting company."
Bravo calls this bunch "connected D.C. power players" who "all have their pulse on the most important cultural events, political galas, gallery openings, and fundraisers in Washington society."
Well, I have my finger on the "off" button.