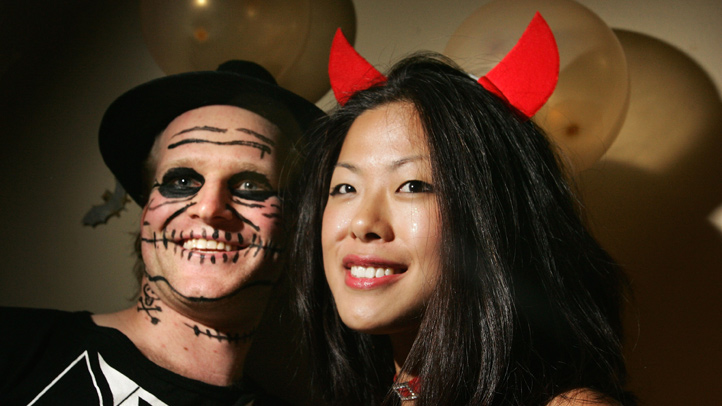 Find your bar crawl, masquerade party or monster mash here. If you're in need of $2 beers or a costume contest that will cost you more to win than you'd collect in prize money, we've got you covered.

We'll add to this section as Halloween looms ever-closer, so keep checking back for more! (Unless you're looking for quirky events like the Silver Spring Zombie Walk or a dog costume party. Those are here.)
---
SATURDAY, OCT. 29
It's time to be something other than a witch or superhero this year. Halloween enthusiasts looking to score some extra cash should be sure to hit up the Halloween Monster Bash at Clarendon Ballroom (3185 Wilson Blvd., Arlington). The biggest costume contest and Halloween party in the D.C. area will award $200 for 1st place and $50 for most original costume, so costumers should start getting crafty. 6 p.m.-2 a.m.; $10 cover.
How many Halloween parties actually take place in a cemetert? Well, the Ghost and Goblets Soiree, for one. The annual fundraiser is for -- and at -- Congressional Cemetery (1801 E. St. SE). The adult-only party will include music, torchlight tours, and eats from Barracks Row restaurants. 6-8 p.m.; $75 ($45 of which is tax-deductible).
Delve into four levels of horror as Nightlife Agency presents the Twisted Circus at Eden Lounge (1716 I St. N.W.). While enjoying the costume party, get spooked out by the haunted circus clowns and Halloween performers on stilts. Reserve a table and enjoy complimentary vampire's blood shooters. 10 p.m. doors; admission free until 11 p.m. with name on guest list at edendc.com; $20 after 11 p.m.
If you don't feel like doing a costume bar crawl, check out the Mayhem and Madness Halloween Bash at Kstreet Lounge (1301 K St. N.W.). Drink specials include $5 Bud Lights and $9 Belvedere drinks until 10 p.m. A costume contest will award prizes, including a weekend getaway in Connecticut and Stephen Kellogg tix. $33.90 advance tix for 7 p.m. entry; $12.30 advance tix for 9 p.m. entry. Doors close at 2 a.m. Tickets will be more expensive at the door.
Get spooky with 7,000+ other costumed Washingtonians at D.C.'s largest roaming costume party: the 12th annual Nightmare on M Street bar crawl. Enjoy $2 Coors Light and $3 Blue Moon specials at 16 downtown DC bars, including Rumors and Public Bar. When the clock strikes midnight, catch a special costume contest at McFadden's. You can order tix starting Oct. 3; pick up will-call tickets at James Hoban's (1 Dupont Circle N.W.). 5 p.m.-1 a.m.; tickets start at $12.50; order advance tickets here.
Reserve your spooky tables for the One Lounge Haunted House Party (1606 20th St. N.W.) and enjoy drink specials, haunted house surprises, body paint and non-stop music spun by DJ Blackbeard. 8 p.m. doors; admission is free, but tables must be booked in advance.
Psychedelic Nightmare 2 is a Halloween rave at DC Star Nightclub (2135 Queens Chapel Road N.E.), with light shows, visualization screens, body painting and something referred to as a "zombie bloodbath." 8 p.m.-4 a.m.; $26 limited presale; $30 at the door.
RFD (810 7th St. N.W.) hosts three bands for its first-ever Nightmare on 7th Street. Go for $5 drafts, $4 Sam Adams, and $5 Stoli drinks and house wine. Lethal Peanut plays from 11:30 p.m. to 1 a.m., following openers Level 7 (8:30-9:30 p.m.) and Chute (10-11 p.m.). Prizes for best costume will be chosen by crowd participation. First opening band 8:30 p.m.; no cover.
The D.C. Witches' Ball wants you to "experience the veil between the worlds thinning." But don't be too scared; we don't think the supernatural really bothers the Hilton Silver Spring (8727 Colesville Road, Silver Spring) all that much. The night includes tarot readers, a costume contest, the Labryinth Lounge and a murder mystery -- plus the requisite dancing, food and a cash bar. $40 general admission; $130 gold passport; 7 p.m.
---
MONDAY, OCT. 31
Head to the best block party in the area for a night of trick-or-treating in Mount Pleasant. Enjoy great music, marshmallow roasting, and a costume contest taking place along Lamont Street NW between 17th and 18th. 6:30-9 p.m.; free.
Maxim Masquerade takes over The Park at 14th (920 14th St. N.W.), sponsored by Ciroc, Red Bull and Crown Royal. Call 202-262-3939 to request bottle service. Doors 8 p.m.; $20 and up.
---
DRINK SPECIALS
Start your Halloween celebrations off right at Urbana (2121 P St. N.W.), with special all-night happy hours. Go for $5 Ketel One Bloody Marys and $4 bottles of Post Road Pumpkin Ale. Oct. 30-31; 5 p.m.-close; no cover.
Local hotspot Lost Society (2001 14th St. N.W.) is adding a spooky twist to their drink menu this month. Enjoy their Halloween-themed specialty drinks which feature the horribly named Blood Bag, a mix of agave, honey and orange bitters topped with a candy finger; the Killer's Passion with habanero water and passion puree; the Lost Zombie, a sweet mix of Bacardi with lime and pineapple juice, and the Hallucination Sour, adorned with a bat on the side. Drinks $10 throughout October.
Sushi Rock (1900 Clarendon Blvd., Arlington) is joining in on the Halloween fun with $10 specialty drinks. Halloween-themed drinks include the sweet and sour Smashing Pumpkin and the frozen Helter Skelter that aims to give you a deadly brain freeze. Drinks $10 throughout October.
---
Check Out the Scene: Keep up with what's happening in the D.C. area anytime, anywhere. Follow us on Twitter and Facebook. Sign up for our e-mail newsletters, download our iPhone app or join our Flickr group.