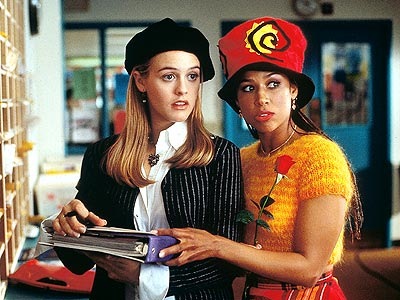 If you loved the '90s -- plaid shirts, coffeehouses, jokes about Generation X -- here's a way to travel back in time and enjoy the decade. The Rosslyn Outdoor Film Festival is back, with "I Heart the '90s" as this year's theme.
From April 30 to Sept. 3, you can catch 19 free movies from the previous decade. Movies from a variety of genres include "Romeo + Juliet," "The Wedding Singer" and "Edward Scissorhands." Teen classic "Clueless" kicks off the big-screen action.
The festival is at Gateway Park at 1300 Lee Highway at the foot of the Key Bridge. It starts at dusk. Bring blankets or low chairs. The pre-grame action will offer up '90s-themed games and prizes. Don't let rain scare you away; the show still goes on unless there's extreme weather.
Complete Schedule:

"Clueless" -- April 30
"Wayne's World" -- May 7
"My Best Friend's Wedding" -- May 14
"Edward Scissorhands" -- May 21
"Happy Gilmore" -- May 27
"Office Space" -- June 4
"Cry-Baby" -- June 11
"Mrs. Doubtfire" -- June 18
"Bio-Dome" -- June 27
"Don't Tell Mom the Babysitter's Dead" -- July 2
"Home Alone" -- July 9
"What's Eating Gilbert Grape?" -- July 16
"Empire Records" -- July 23
"Dumb and Dumber" -- July 30
"Romeo + Juliet" -- Aug. 6
"Airheads" -- Aug. 13
"The Wedding Singer" -- Aug. 20
"The Birdcage" -- Aug. 27
"Billy Madison" -- Sept. 3