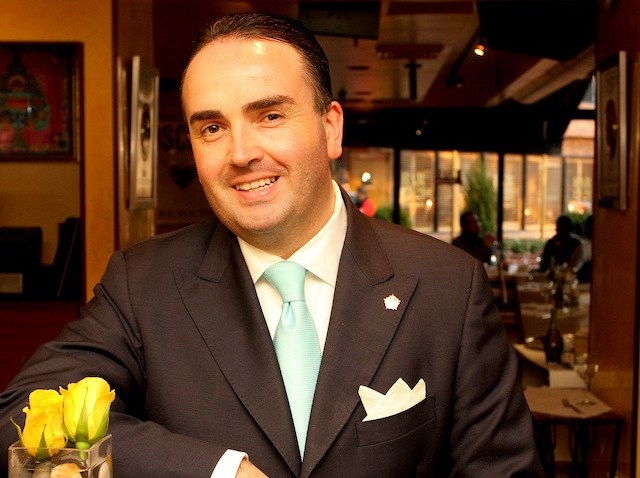 Cafe Milano manager Laurent Menoud dished to Niteside last night about the details of being the main man in charge of catering to the needs of celebrities, politicians and DC big wigs who flock to his restaurant nightly.
"I probably have names and table preferences of a thousand people in my head," he told Niteside. "Every client wants the best real estate table-wise. You need to be quick in making decisions, very discrete about your clientele and have a lot of patience."
He calls it his mental rolodex.
The celebrity hotspot in the heart of Georgetown has been hopping with celebrities as of late. Academy Award-winner Renee Zellweger was there last night along with "Hangover" star Bradley Cooper.
As for Laurent's favorite guest: "When we catered the birthday lunch for Pope Benedict it was one of the greatest day of my life," he said. "I've met many movie stars, sports celebrities, head of states, but there is only one Pope."
He added, "My favorite person was the late Majesty King Hussein of Jordan. Very humble."

Among the restaurant's regulars is former Rep. Tom McMillan: "I like the fun and the atmosphere," he said. "I've seen Bo Derek, Quincy Jones, Jennifer Lopez with Mark Anthony and Dick Cheney."

When TV host Rita Cosby rolls into town, she heads straight to Milano.
"The atmosphere is always electric," she said. "I have run into Michael Jordan and I even did a short boogie together on the dance floor one night! You often see Republicans and Democrats who have just left a sparring match on TV earlier, sharing a few glasses of Merlot at the bar right after."

Reporters are known to flock there too. "I think young reporters like going to Cafe Milano because it gives off that feeling of old school Washington that we can't find at too many places," said Politico's Kiki Ryan

Lobbyist Tommy Quinn, a regular, often runs into friends Bill Richardson, the Clintons and The Amb. of Ireland.