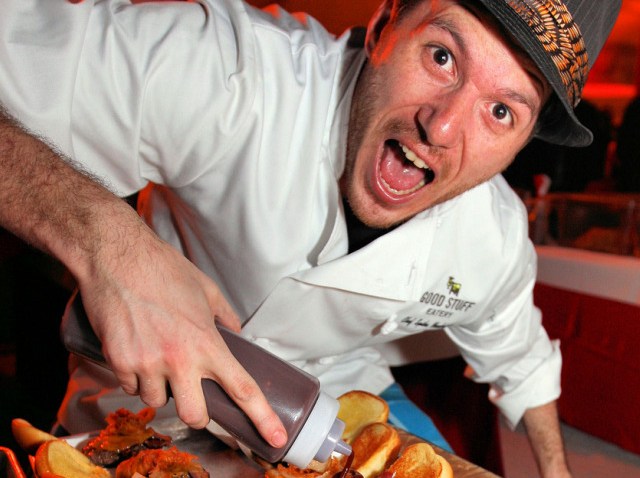 Good Stuff Eatery owner Spike Mendelsohn continues to rack up the burger accolades, this time taking home a judges' award at a New York City competition.
Spike, he of "Top Chef" fame and mastermind behind the Capitol Hill restaurant, entered his Obama Burger into the Burger Bash at the New York Food and Wine Festival. And the burger with a famous name won over the judges.
The cheerleaders dressed in "Spike" outfits didn't hurt his chances, either. But we digress...
For those who haven't tasted the Obama Burger yet, it is topped with horseradish mayo, red onion marmalade, crumbled blue cheese and applewood smoked bacon. And it's all on a potato roll.
Spike followed up on his Obama Burger at his Capitol Hill restaurant (303 Pennsylvania Ave. S.E.) with a Michelle Melt, in honor of the first lady's visit to the eatery in August. And if you're wondering, yes, the first lady and the kids ordered an Obama Burger.
The Michelle Melt is a free-range turkey burger with caramelized onions, Swiss cheese, ruby red tomato, crisp lettuce and South Lawn herb garden mayo, all on a freshly baked wheat bun.
Spike's win in New York follows up an impressive performance earlier this year at the South Beach Wine and Food Festival, where he won three of four burger awards, including the sought-after People's Choice Award.