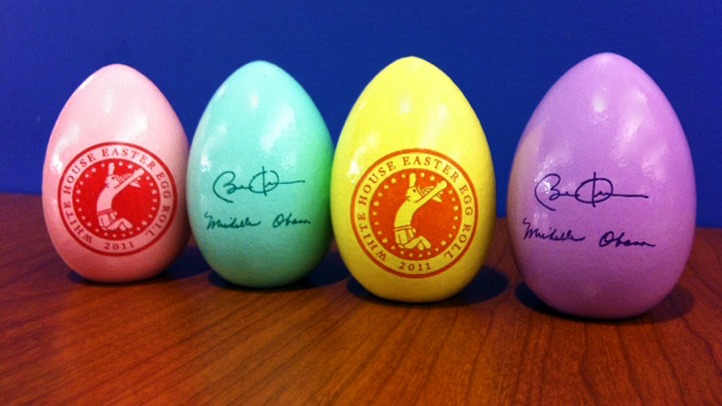 These colorful eggs aren't the edible kind... unless you enjoy gnawing on wood. The White House revealed its 2011 Souvenir Easter Eggs today, embellished on the front with a leaping bunny clad in workout gear. The back features the signatures of Barack and Michelle Obama.
The 2011 White House Easter Egg Roll is Monday, April 25. Like last year, the event focuses on health and fitness -- hence the cute bunny in workout gear.
This year's theme is "Get Up and Go!" The Egg Roll's activities are designed to encourage kids to lead active lives, part of the first lady's Let's Move! initiative against childhood obesity.
And wait -- are eggs good for us or bad for us this week? Don't the yolks have a lot of cholesterol? Good thing these commemorative eggs are wooden. And, for that matter, they're also environmentally friendly.
"[A]ll eggs have again been crafted in the United States from Forest Stewardship Council-certified hardwood," the White House said. The Sustainable Forestry Initiative-certified paperboard packaging uses vegetable oil-based inks and a water-based coating.
You can order your own here -- one for $7.50, or a four-pack for $26.50.
---
Check Out the Scene: Keep up with what's happening in the D.C. area anytime, anywhere. Follow us on Twitter and Facebook. Sign up for our e-mail newsletters, download our iPhone app or join our Flickr group.