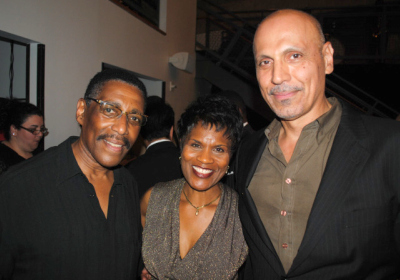 Artists, performers, poets and business leaders gathered last night at the Cultural Alliance of Greater Washington's ART BIZZ Ball to honor area restaurateur Andy Shallal.
Shallal, the owner of Busboys & Poets and Eatonville restaurants, said he opens his dining rooms to artists because the arts saved his life as a child.
"I had just come from Iraq. I had a very severe stuttering problem ... and I didn't speak much," Shallal said at the Woolley Mammoth Theatre event.
"My art teacher was someone who noticed a talent in me and that was art. ... I couldn't speak English, and I stuttered severely so she would pull me into her classroom and I would paint and draw and do all these wonderful things. I really believe that the arts saved my life."
The owner recently announced the opening of two more locations for his hit restaurant Busboys & Poets in Hyattsville, Maryland, and Rosslyn, Virg. His restaurants will continue to serve as community spaces where artists are celebrated, he said.
"I'm an artist myself and the arts are really ... everything," Shall said. "Everything I do is connected in someway, in some form to the arts."