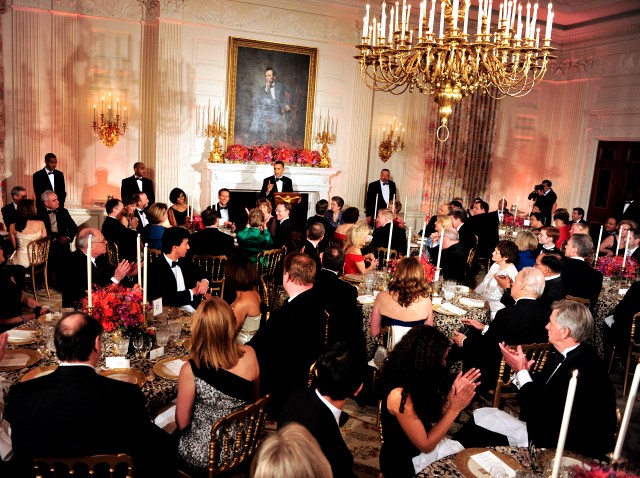 President Obama and the first lady hosted the annual Governors' Ball Sunday night where governors and their spouses gathered for a four-course, black-tie dinner in the State Dining Room.
"This is not too stiff of an affair, because last year, [Penn. Gov.] Ed Rendell led a conga line," Obama joked during his opening remarks. "We still have photographs that we may use."
The president then offered a brief toast. See who was clinking glasses with whom:
Table No. 12: Tim Pawlenty of Minnesota was sitting to the right of first lady Michelle Obama. Also at the table was Michigan Gov. Jennifer Granholm.

The vice president Joe Biden sat at a table in the middle.

Table No. 3: Gov. Charlie Crist of Florida dined with Govs. Bobby Jindal of Louisiana and Mike Beebe of Arkansas. Treasury Secretary Tim Geithner was also seated at the table.

Gov. Arnold Schwarzenegger was sitting next to Gov. Jim Doyle, of Wisconsin. Interior Secretary Ken Salazar was two seats to the right of the California governor.

Gov. David Paterson, Gov. Bill Richardson of New Mexico and White House chief of staff Rahm Emanuel along with Transportation Secretary Ray LaHood were seated at the same table.