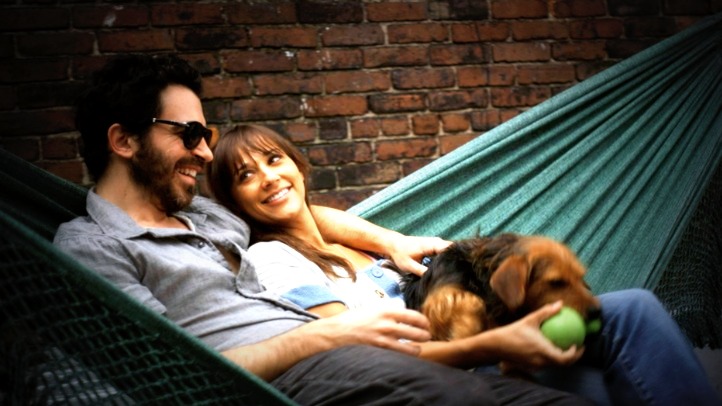 Anxiety and boredom, not to mention clandestine attractions, beg to tear a couple apart prior to their impending marriage in "Monogamy."
In the film, Academy Award-nominated Dana Adam Shipiro (for his documentary "Muderball") chronicles a couple on the brink of disaster. Wedding photographer Theo (Chris Messina), makes it perfectly clear to the audience that he is bored to death with his situation -- so much so that it if "Subgirl" (Meietal Dohan) hadn't come along, Theo's boredom might have had the same effect on the audience.
Subgirl is a tantalizing exhibitionist who hires Theo to capture her voyeuristic antics on camera. While she's good for the viewers, she's not so good for Theo's fiancée Nat (Rashida Jones). The movie is a portrayal of everyday life in slow motion with a twist at the end.
Niteside caught up with co-director/producer Shapiro -- also a former Spin Magazine editor -- who explained the flick this way:
"I started out with this idea of a 30-something New York photographer who creates a service called Gumshoot, where people can hire him to follow them on the sly and take surveillance-style photos -- to see what they really look like. I had read about a similar service in the Post.

Then we were like: OK, what if this sexy woman hires him and starts doing weird things in front of his camera? So that was the hook. Exhibitionism. Voyeurism. Who is this girl and why is she doing this? And why is he becoming obsessed with her? But the story is ultimately about a regular guy who's got a great girl at home but is nervous about getting married to her in three months."
So does Shapiro think that most men go through what Theo did? "I hope not!" he said. "Theo is in a panic -- but it's not the fear of never having sex with another woman; it's the fear of being stuck in a sexless marriage. He's afraid of becoming the type of person that he hates: a cheater."

Then do most women become the archetype of Nat (the wife)? "I think Nat is a pretty great girl," Shapiro said. "It's just that she's not so attracted to her fiancé anymore."

OK. so that would take us to the irony of the film's resoluation. "It was all about Theo's journey, Theo's panic," he said. "It wasn't about coming up with a twist; it was about finding an ending that would sting him the most."

So the grass is always greener? Or is it an attraction to the darker side of life?

"Well, the ending suggests that the grass is just fine wherever you're standing, you just have to cultivate a sexy garden," Shapiro said. "Whether you like daisies or thorny roses is up to you."
"
Monogamy" opened at the West End Cinema (2301 M St. N.W.) March 18.