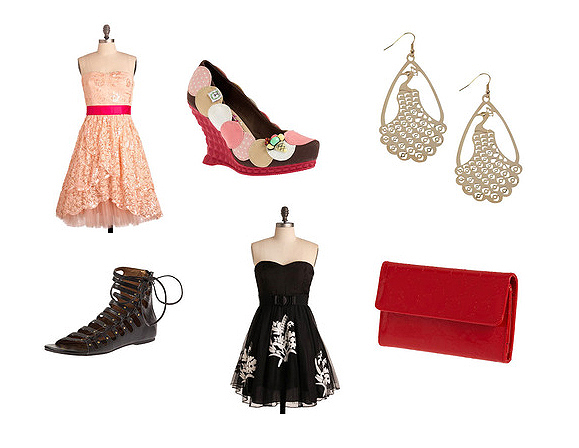 D.C. could stand for "dull clothing." Alas, we are not the fashion capital. The dark-suit-and-white-shirt uniform on both genders can be a bit dreary. Yeah, we look like serious professionals but wearing some joi de vive on our sleeves wouldn't keep our legislation from getting passed, you know.
I was recently videotaping the Georgia O'Keefe exhibit at the Phillips Collection and the PR woman showing me around was wearing the most fabulous outfit. It was hip and sassy and didn't show clevage or her "bee-hind" as my mother would say.
Where-oh-where did you get that?? New York? San Francisco?
ModCloth.com, it turns out. It's a Web site that bills itself as a "mod retro indie." The online shop has cool dresses and skirts and tops and wild and wonderful shoes. It also has accessories for your personal life and your home. Some are whimsical, like the peanut butter and jelly sandwich wallet... which I HAVE to get. Everything on the site feels happy.
High school sweethearts Eric Koger and Susan Gregg Koger started ModCloth when they were 17. That was in 2002. They now have more than a hundred employees and a product line that's still expanding. The Web site's been viewed by more than 10 million people, they said.
As a woman over 50, I feel like I've aged out of some of the clothes. But you younger ladies will have a field day with this site. And the shoes... oh my, the shoes! And there are some fun dresses that I can still manage to wear without people talking about me behind my back ( or should I say, bee-hind)...
Washington will never be the hipster capital. But the expanding "cool" of Dupont Circle, U-Street and Logan areas give us hope. And ModCloth gives us something to wear when we're there.