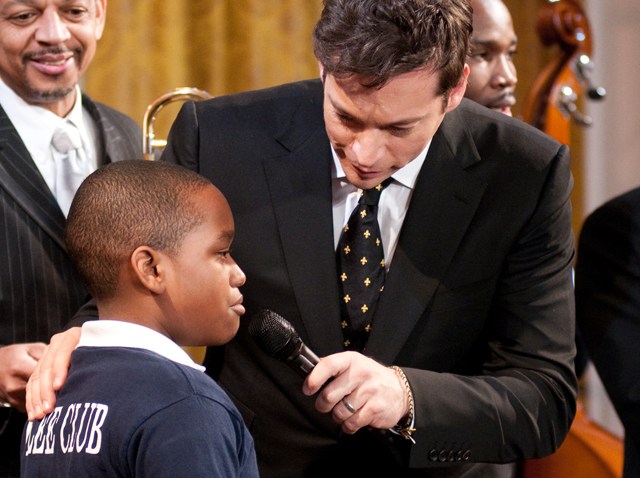 A D.C. elementary student got the opportunity of a lifetime when he was hand-picked by Grammy-award winning jazz singer Harry Connick, Jr. to perform in front of the First Lady before tonight's Governor's Ball.
Connick invited Derick Hopkins, Jr., a member of the Miner Elementary School glee club, on stage to perform "When the Saints go Marching In" with his band.
Hopkins didn't seem to know the words to the song, but that didn't faze Connick. He simply sang the words and had the songster repeat the lyrics back. A few minutes later Derick was singing alone.
The entire glee club also did a group performance of "Heat Wave" by Martha and the Vandellas.
Mrs. Obama invited the students for a special preview of the artists scheduled to perform at tonight's ball.
The First Lady took the time to shake each of the student's hands and take pictures.
Connick co-founded the Musicians' Village in New Orleans, which helped provide housing for displaced musicians after Katrina. Some of the musicians who performed with him at the White House on Sunday live in the village.
The First Lady also spoke to the students and told them they have a lot to learn from the men on stage.
"These guys aren't just playing music and earning money and performing, but they're also community leaders, too," Mrs. Obama said.
"Even if you can sing and dance, the question is: What do you give back?"
Connick will perform Sunday night as part of the National Governors Association's Governor's Ball.
Copyright AP - Associated Press