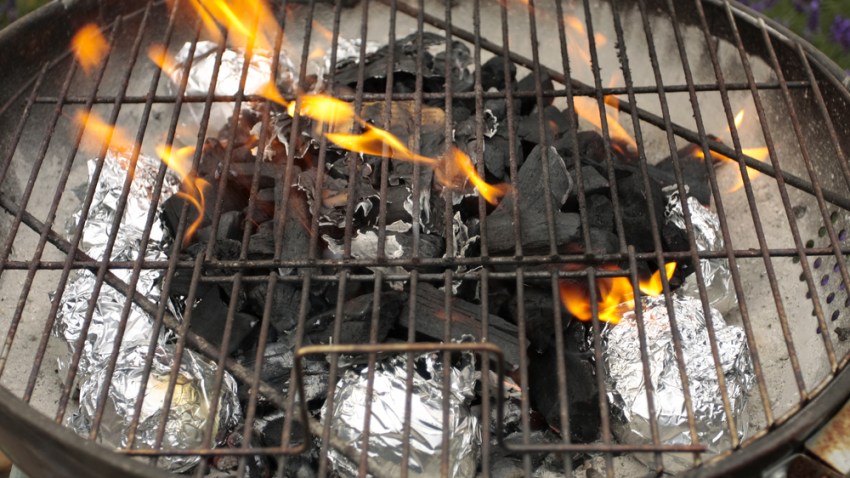 Wagshal's Executive Chef Ann Marie James prepares the "lomo" -- a loin cut of Iberico de Bellota -- for two.
Lomo Iberico de Bellota - 6 oz cut into 2 pieces
Cibatta Bread
Mojo Verde (recipe to follow)
Honey Mustard Aioli (recipe to follow)
Tomato Fresco (recipe to follow)
Extra Virgin Olive Oil
Lomo Iberico de Bellota:

Cut the lomo into two pieces (3 oz. each).

Sear the lomo on each side – approximately two minutes per side. Temperature should be 130 (medium rare to medium). It should be pink inside.
Assemble the plate with the following:

Mojo Verde:
4 oz cilantro
.85 oz garlic cloves – peeled
1.5 tbl sherry vinegar
½ tsp kosher salt
1 tbl cumin Seeds (toasted and ground with mortar & pestle)
½ cup olive oil blend
In sauté pan, toast cumin seeds, allow to cool and grind with mortar and pestle. Blend all ingredients in food processor on low speed.
Garlic Aioli:
12 cups blended olive oil
5 ea eggs
¾ cup water
¼ cup lemon juice
½ tsp Salt
6 oz garlic cloves (mashed)
honey mustard
Mash garlic (with salt). Put mashed garlic, water, lemon juice in food processor or blender. Add eggs continue blending. Slowly add the olive oil blend. If it gets too thick – add a bit more water. Add one cup of the garlic aioli with 2 tbl of honey mustard. Blend well.

Tomato Fresco:
5ea Roma tomatoes
extra virgin olive oil
salt to taste
baguette – sliced
rosemary sprigs
Grate tomatoes. Put in colander and allow to drain at least 30 minutes. Add olive oil and salt to taste. Grill baguette slices. Spread the fresh tomato on top. Garnish with rosemary.

Shoga Yaki Sauce:
1 cup mirin
1 cup soy sauce
1 cup saki
In saucepan heat the mirin and sake and bring to a boil. Allow to cool completely. Add soy sauce. Chill. When ready to serve, add 2 tbl grated ginger, mix thoroughly and serve.
Ibérico de Bellota FAQ:
Q: What is Ibérico de Bellota pork? Why is it so special?
A: Ibérico de Bellota pork is produced from Ibérico pigs, the famous black pigs indigenous to the Iberian peninsula that gives them their name. Ibérico de Bellota is the highest quality pork available.
Q: What does Bellota mean?
A: Ibérico pigs born in the early spring are left to forage in the dehesa, the cultivated forest of cork and holm oaks of western Spain, during the winter months. During this time, known as the montanera, the pigs fatten up on fallen acorns (bellota in Spanish). This acorn-heavy diet gives the resulting Ibérico de Bellota pork an unsurpassed taste and quality.
Q: What are Iberian pigs?
A: The legendary cerdo Ibérico or Ibérico pigs are a breed of pig unique to Iberian peninsula. The Ibérico pig is a descendant of sus mediterraneus, the wild boar that once inhabited the forests of the Mediterranean. Popularly known as pata negra, or black hoof, Ibérico pigs are the last free ranging pigs in Europe.
Q: How is it related to Ibérico de Bellota ham?
A: Ibérico de Bellota is produced from the same pigs used to make the highly prized jamon Ibérico de Bellota. The pork has a lot of the same nutty richness, the same sweet aromas that make Ibérico de Bellota ham the finest in the world.
Q: Where can I buy Ibérico de Bellota?
A: Ibérico de Bellota is available for sale at Wagshal's Market (www.wagshals.com)and at some of the finest restaurants in the country.
Q: Who is exporting Ibérico de Bellota?
A: Fermín S. L. is the Spanish company bringing Ibérico de Bellota pork to America. Fermín is a small, family owned firm based in La Alberca in Salamanca. Since 1959, when patriarch Fermín Martín founded the company, the Martín family has been raising and slaughtering pigs to produce the highest quality pork products.
Q: Do you have recommendations for how to prepare Ibérico de Bellota pork?
A: Ibérico de Bellota cuts can be prepared as you would standard pork although the inherent richness of Ibérico ensure a juicier, more flavorful end result. Best cooked so the meat is medium rare with a nice pink center. Recipes and more information are available at www.wagshals.com
Q: Is it true that Ibérico de Bellota pork is rich in "good" cholesterol?
A: The Ibérico pig has a unique ability to store extremely high levels of vegetable fats in its dense muscle tissue – this trait is unique to the Iberian breed of pig allowing its meat to produce an incomparable tenderness and texture along with tremendous sweet flavor. Since the Iberian breed stores such high levels of vegetable fat, it is also able to provide high levels of HDL cholesterol which can lead to a lower risk of heart disease through a reduction of LDL cholesterol levels.