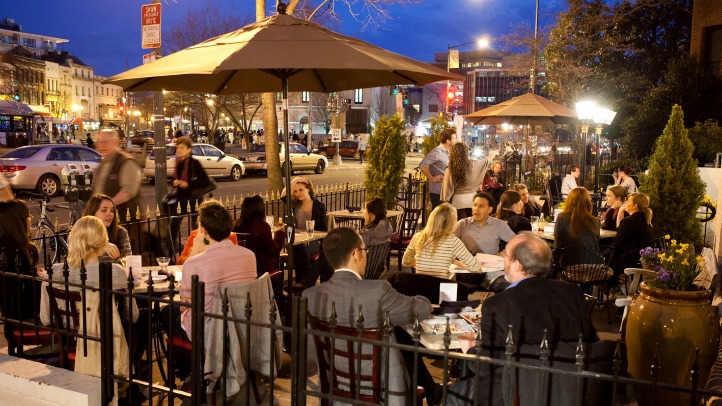 "When I came in here, I never expected to have sex with the bartender, but it was incredible," said One Lounge patron Maguette Diop, joking about the signature cocktail, Sex with the Bartender.
One Lounge (1606 20th St. N.W.) only opened in December 2009, but they're already shedding the old, premiering a new dining menu ideal for a spring night spent on the patio.
Break the ice on a date with a pair of Grey Goose French Martinis and any of the "plates to share" for starters, like the crispy Herb-Parmesan Truffle Fries or the Italian meats and fresh grilled veggies.

Owners Seth McClelland and Niko Papademetriou term their concept "social dining," which suits the swanky nightlife spot. McClelland said the idea was to open a "true lounge" -- "a place that opens at 5 p.m, not 10, where you can come in for dinner and drinks or just to relax."
Of course, the spot also serves food into the wee hours of the morning, offering its full dining menu until 2 a.m. No Jumbo Slice for you!
One Lounge's new chef, Christoph Marquette, has revamped the salad options with a few new fusion-inspired creations, including his french green bean, asparagus tear-drop tomato and walnut salad.
Other dishes include sautéed shrimp tossed in penne, with black olives, sun-dried tomatoes and basil, drizzled with white balsamic vinaigrette; flame-grilled flank steak, and fresh seafood. Lemon-cured smoked salmon on a bed of European cucumbers, capers and fine herb crème fraiche is a perfect option for those looking to dine light.
"This is a great place to come and do everything from drinking, dancing, watching sports by the bar and in my case, eating good," said Diop. "As much as I enjoyed the roast beef and the insanely flavorful truffle fries, the smoked salmon was by far the most delicious I've had in a very long time."
One Lounge is also a favorite hotspot for Capitol Hill politicos and Embassy Row beauties, plus the Washington Capitals' Alex Ovechkin.
Cozy up on a leather couch with your crush (hopefully, not Ovechkin), or find a new one by the bar while McClelland whips up a pair of cocktails to make the introduction.
---
Check Out the Scene: Keep up with what's happening in the D.C. area anytime, anywhere. Follow us on Twitter and Facebook. Sign up for our e-mail newsletters, download our iPhone app or join our Flickr group.