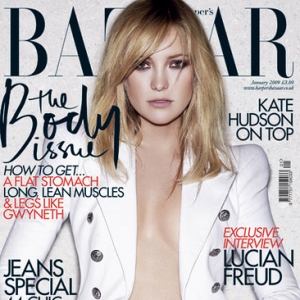 Kate Hudson has admitted it's hard to have male pals now that she's single.
The actress and star of the upcoming comedy "Bride Wars" — alongside Anne Hathaway — told Britain's Harper's Bazaar that being single has meant any guy she's been spotted with has turned into a tabloid boyfriend.
VIEW THE PHOTOS: Hollywood Blondes
"I was never single in the industry – when the movies came out and I started getting more jobs, I was always married," she told the magazine's January issue. "So the whole thing is very new to me, and it hits you very fast because the publications jump on you. You're dating everybody you walk around with – you can't have any male friends. It's weird."
But though she's been linked with a host of men, or rumored to be getting back with her ex, and father of her 4-year-old son Ryder — Chris Robinson, Kate is footloose and fancy free.
"I'm single," she said. "I'm totally single."
Other tabloid rumors she wants no part of – ones having to do with pregnancy.
"They've said maybe four times recently that I'm pregnant. Because I'm leaning over in the picture! You think about it, and you're like, 'What are you doing?' " she sighed. "It's all bulls**t… Excuse my language, but it is. Women's bodies change – they change all the time."
VIEW THE PHOTOS: Hollywood Moms
And while she remains a tabloid fixture, the petite blonde doesn't let the media attention get her down.
"Life is too short to be concerned with anything but having a great time," she told the fashion mag. "Sports are big in my life. I swim, run, bike and dance, play volleyball and soccer, and I want to start training for a triathlon. I'm one of those people who love to be active."
Related Content from AccessHollywood.com:
PLAY IT NOW: Kate Hudson & Anne Hathaway Talk 'Bride Wars'
PLAY IT NOW: Kate Hudson Talks 'My Best Friend's Girl'

MORE ACCESS ON THESE TOPICS: Kate Hudson - Celebrities - Movies

Copyright NBCAH - Access Hollywood