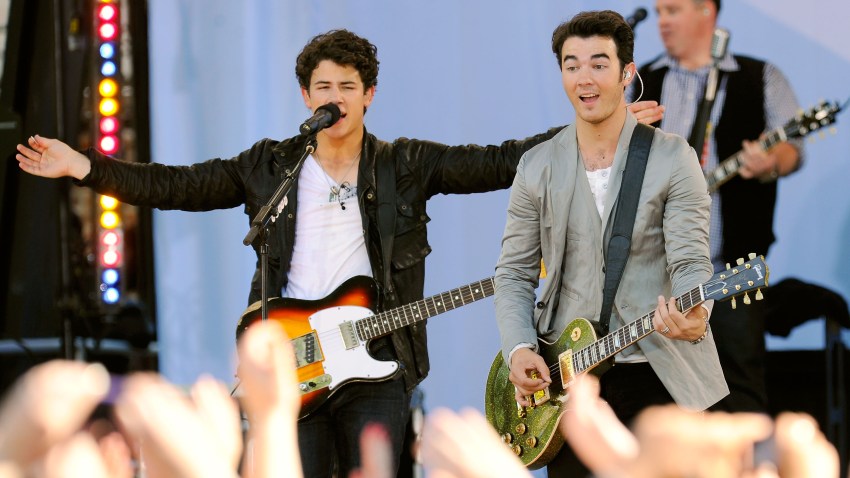 Fans of the Jonas Brothers started lined up outside the Warner Theatre (1299 Pennsylvania Ave. N.W.) Tuesday afternoon, hoping to score free tickets to a surprise concert.
Even more surprising? The concert wasn't scheduled until Wednesday morning -- at 7 a.m.
Starting at 2 p.m. Tuesday, fans could receive a wristband to attend the show. The venue was handing out up to 1,000 wristbands, with a limit of two per person, reported Just Jared, Jr.
As of 6:30 a.m. Wednesday, News4's Megan McGrath reported that wristbands were still available. The gates opened a short time later, and all those people with wristbands made their way into the venue for the free event.
Some people said they drove all the way from West Virginia for the 45-minute concert. Many got in line very early Wednesday. With seat assignments on a first-come, first-served basis, the teens didn't seem to mind the wait. One fan said she'd be willing to wait for a week.
But why so early, Jonases? The group wanted to make sure the kids were able to head to school after the show (yeah, right!) and because they'll be part of a White House concert later in the day to honor Paul McCartney.
McCartney is being honored with the Library of Congress' Gershwin Prize for Popular Song. The Jonas Brothers, Stevie Wonder, Elvis Costello and others will be part of the tribute concert that will be presided over by President Barack Obama.
---
Let's go Around Town: Keep up with what's happening in the D.C. area anytime, anywhere. Follow us on Twitter and Facebook. Sign up for our e-mail newsletters and find out What You're Doing Tonight with texts delivered right to your mobile phone -- just text DCTONIGHT to 622339 to sign up. (Message and data rates may apply.) Don't forget our iPhone app!