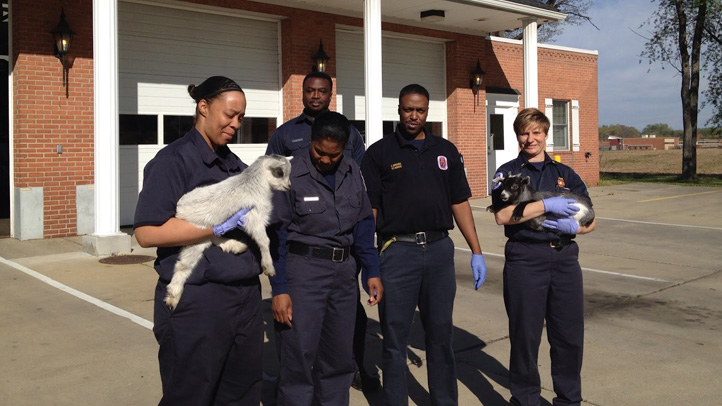 Are you missing some pygmy goats?
Because the Prince George's County Fire Department has them carefully tucked away in a bookcase, just waiting for you.

A woman stopped by the Croom Fire/EMS Station, in Upper Marlboro, on Thursday afternoon to let officers know that two goats were wandering in the street in front of Frederick Douglas High School, and vehicles were swerving to avoid hitting them.

Firefighters and EMS workers arrived to discover citizens trying to herd the goats, which was actually less cute and more dangerous than it sounds, thanks to those problematic speeding vehicles.

Following a harrowing rescue, firefighter/medics Lisa Viars and Regan Carter each held a goat during what was probably the most cuddly ride back to the station ever. Viars' husband has volunteered to keep the goats (presumably not in the bookcase... although that would be cutest) until an owner/goat parents can be identified.

One of the goats had a sticker with the number "574" on his head, so the crew has begun calling him 574. His co-goat is nicknamed 845 after the Fire/EMS Station number.

If you know where these goats belong, other than in a bookcase or frollicking about in traffic, contact the Croom Fire/MS Station at 301-883-7745 or 443-404-9375.
---
Check Out the Scene: Keep up with what's happening in the D.C. area anytime, anywhere. Follow us on Twitter and Facebook. Sign up for our e-mail newsletters.