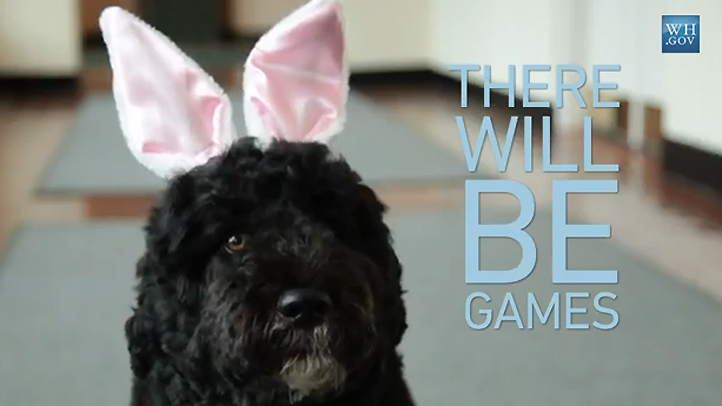 The lottery for this year's Whte House Easter Egg Roll opened Thursday, and along with that, the White House released the design of 2012's souvenir eggs... and more importantly, a video of Bo Obama wearing bunny ears!(!!!!)

Not to be outdone by those pesky, attention-hogging bunnies, Bo is also staring in an online video about the Easter Egg Roll... in which, by the way, he appears to lay an egg. See, he can do the job of a dog, a bunny, and a chicken. He can! He totally can!



A red, First Dog-themed egg featuring Bo's paw print is included in a five-pack Collector's Egg Set, available for sale online.
Unlike last year's pastel palette, this year is all about bold colors. The non-Bo eggs are purple, blue, green and orange. They include stamped signatures of Barack and Michelle Obama.
And of course, those gym-shorts-clad bunnies are back. Yep, the ones who just haaaave to attempt to steal the limelight from Bo. They're featured on the other four eggs, and they are total overachievers. In 2010, the bunnies were jogging; last year, they were leaping. This year they're hula-hooping.
Show-offs.
Anyway, all kids 13 and younger who attend this year's White House Easter Egg Roll on April 9 will score a free egg. If you're not a kid 13 or younger, well, we share your pain. Regular folks can purchase the eggs online here for $7.50 each, or $29.50 for the five-pack that includes the Bo egg.
There, there, Bo. It's OK. See, you're special too.
---
Check Out the Scene: Keep up with what's happening in the D.C. area anytime, anywhere. Follow us on Twitter and Facebook. Sign up for our e-mail newsletters.