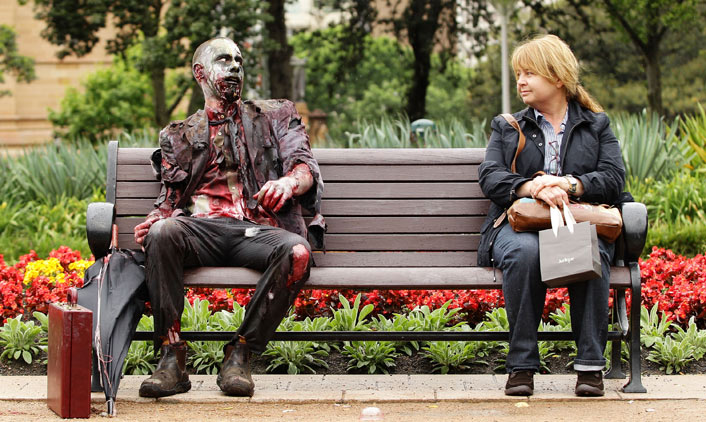 Normal 0 false false false EN-US X-NONE X-NONE There is no such thing as too many zombies. And not only are zombies awesome, but they truly put our human survival skills to the test. Surviving a zombie invasion requires planning, teamwork, diligence, and strength against all things gray.
So with that in mind, wouldn't we want more zombies -- if anything to practice against, for the inevitable "real" invasion?
All right, our logic may be a little off, but Carl O'Bryant-Yabar understands. On April 23 at 6 p.m., he's got some Zombie Survival Zombie Tag going on at Montrose Park (3001 R St. N.W.).
The event welcomes everyone to come in full zombie garb. Makeup artists will be on the scene to dole out sweet zombie realism, though zombie spots are limited.
The much more lucrative roles lie in going to the event as a "living." While weaponry is limited to Nerf guns and balled-up socks, simulation or not, the experience gained is valuable.
The event will have three zombie survival scenarios, ranging from an escort mission, a defeat-the-leader mission, and a last-stand holdout mission. The specific rules to each scenario will be detailed at the event. The game borders, however, have been mapped out.
So what are you waiting for? Load your Nerf darts, ball up your sock grenades and meet 'em out there! If you're looking for us, we'll be the scared people hiding behind you.
---
Check Out the Scene: Keep up with what's happening in the D.C. area anytime, anywhere. Follow us on Twitter and Facebook. Sign up for our e-mail newsletters, download our iPhone app or join our Flickr group.