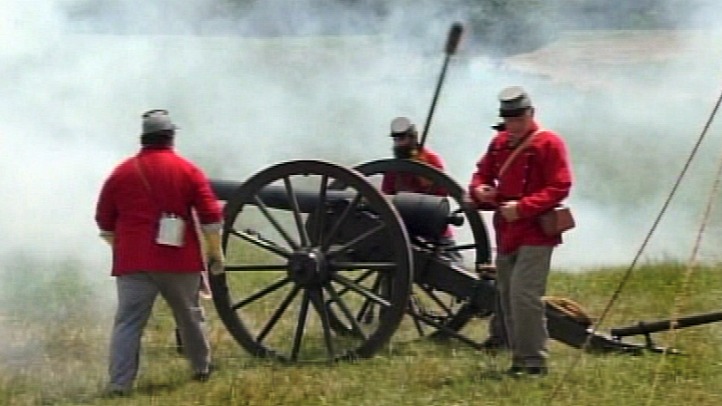 The battle continues in Manassas!
Despite the heat (and those heavy woolen uniforms), Civil War reenactors are commemorating the 150th anniversary of the Battle of Bull Run this weekend by staging their own fight.
The Union and Confederate soldiers took a break on Friday, as excessive heat led organizers to cancel all outdoor activities.
But it's full steam ahead now, despite an expected heat index Saturday of 105 to 115. The reenactment site is open from 6:30 a.m. to 2 p.m. both Saturday and Sunday.
If you're looking for something a little less violent than re-creating a battle, consider a Civil War-era baseball game, learning about life after the war, or getting a new perspective on the Underground Railroad. You can also see a screening of the Civil War epic "Gods and Generals," starring Robert Duvall and Jeff Daniels.
However, some events have been modified or called off due to the heat. Other than a musket firing demonstration at 11 a.m. and an artillery firing demo at 1 p.m., the rest of the musket and artillery demonstrations have been cancelled.
The Quantico Marine Corps Band has called off its scheduled 7 p.m. concert.
For up-to-date event info, visit the park's web site or call the toll-free information lines 855-305-5947 or 855-576-1335.
---
Check Out the Scene: Keep up with what's happening in the D.C. area anytime, anywhere. Follow us on Twitter and Facebook, sign up for our e-mail newsletters, download our iPhone app or join our Flickr group.