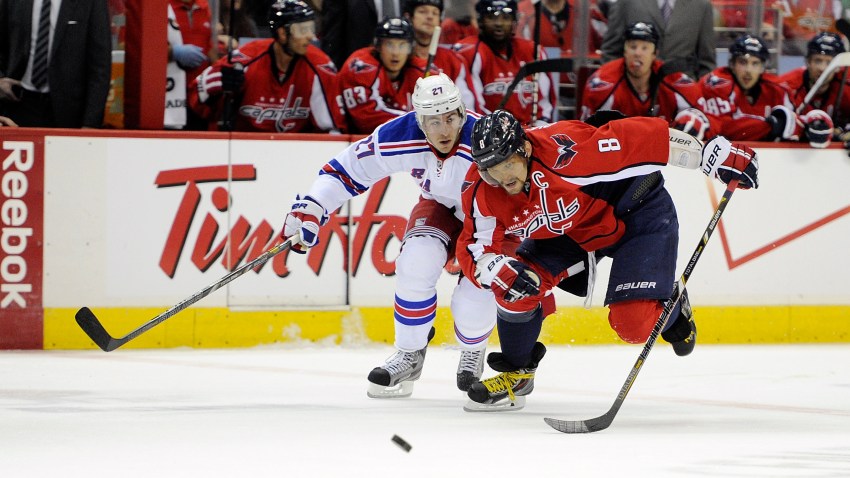 Ahead of Game 3 of the Eastern Conference quarterfinal series between the Capitals and Rangers Wednesday morning, Rangers Coach John Tortorella maintained that the first two games were a lot closer than the results might suggest.
"I think they've been a hell of a lot more even than a lot of other people think," he said, understanding that his team finds itself in a tenuous position facing a potential 3-0 deficit.
Upon hearing that, some surely had the same reaction that Capitals Coach Adam Oates did -- "It's 2-0 so I don't know how that's even," he said before ultimately agreeing with Tortorella.
But beyond the box score, the first two games of Washington and New York's fourth postseason meeting in five years have been tighter than they appear.
It took 62 combined shots for either side to score Saturday, when defenseman Mike Green's slap shot eluded goaltender Henrik Lundqvist (who is the only reason why the Rangers have kept things close through two games) to lift the Capitals to a 1-0 overtime win and 2-0 series lead.
The Rangers have only scored one goal on goaltender Braden Holtby through 128 minutes (and it was a wraparound that deflected off a defenseman's skate), but that isn't to say that they haven't had their chances. Tortorella pointed to forward Rick Nash's shot that struck the left post with about four minutes left in regulation Saturday.
"Another inch," he said. "It changes."
For the most part, the sentiment within Washington's locker room from those who broke away from the "one game at a time" mentality was the same.
"It's close," forward Troy Brouwer said. "You know, last game is 1-0 overtime and you can't get much closer than that. And the other game, you know, Lundqvist played really well and we were able to get a couple by him. This series has been very close. The shots, the hits, everything relatively similar, but we've had a couple good bounces and that's why we're up 2-0."
The Capitals looked like a team up 2-0 during their pregame morning skate at Madison Square Garden, joking and laughing while running through line rushes and drills. However, they've never led a seven-game series 3-0 in franchise history, so while they may be loose now, that's not how they want to be as game time approaches.
"It's good to a point," Holtby said. "I'm not sure we want it as loose as this morning. It's still playoff time and you never want to get comfortable. When you're starting to get loose, you can tell guys are starting to get comfortable and whatnot. We're going to make sure in [our] pregame meeting that everyone is focusing in, making sure that we're doing the right things to prepare as if we're down 0-2. Just because we're up, it doesn't make it any easier on us."
---
Follow Adam on Twitter @AdamVingan and e-mail your story ideas to adamvingan (at) gmail.com.