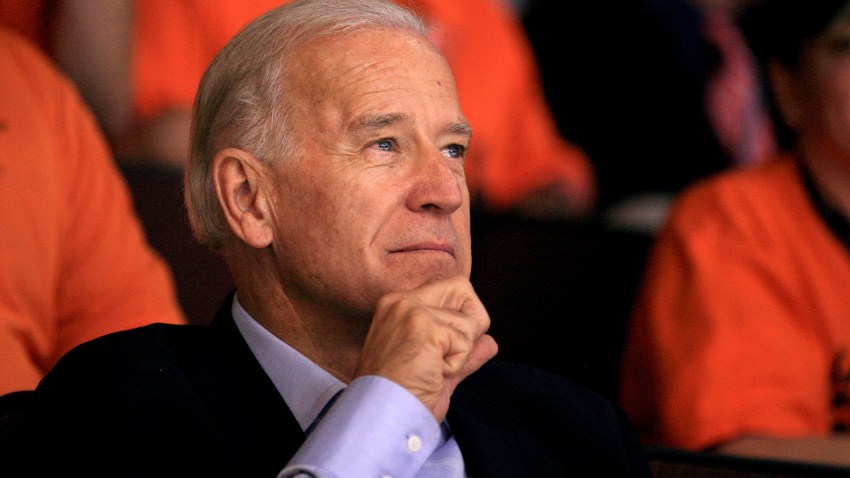 In other (extremely serious, hard-hitting) news, Vice President Joe Biden had lunch at Pete's New Haven Style Apizza on Wisconsin Avenue today. He met with small business owners to chat about tax cuts. See, it's not all about delicious, delicious pizza.

Biden took a detour through the kitchen to meet employees. He then snagged a table with his fellow diners, asking if he could take his suit coat off "because I plan to eat some pizza at some point."

Attendees included Damon Blacklock, a police officer trainee from Baltimore, and Kathy Ogle, a nurse practitioner from Annapolis.

They were there for the Middle Class Task Force roundtable, where Biden found common ground with some of his fellow diners, including Pete's co-owner Joel Mehr, who said he eats pizza every day. Biden replied, "So do I. Just about."

Mehr told Biden that he and his co-owners are getting ready to open a third location in D.C. Aside from their Tenleytown location, there's a second Pete's in Columbia Heights.

"How in God's name did you get credit?" Biden asked. Mehr told the VP he went to 20 banks before finding a local one that gave them a loan.

Before heading out, Biden also ordered two pizzas -- one plain, one pepperoni -- to go back to the White House.
---
Let's Go Around Town: Keep up with what's happening in the D.C. area anytime, anywhere. Follow us on Twitter and Facebook. Sign up for our e-mail newsletters and find out What You're Doing Tonight with texts delivered right to your mobile phone -- just text DCTONIGHT to 622339 to sign up. (Message and data rates may apply.) Don't forget our iPhone app!