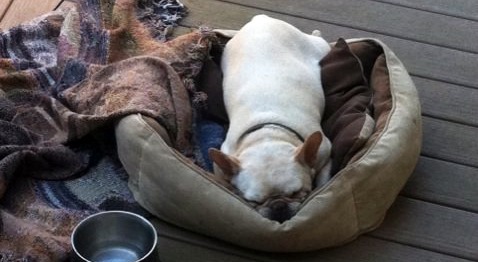 Once settled on the deck of
, you'll likely be greeted with a snort from a 15-year-old pug named Buddy. This pint-sized friend of the Chateau also happens to be their mascot and muse for their Cabernet Franc vintage, aptly named Buddy's Bistro Red.

Visit Buddy this weekend for the sixth annual Saint Patrick's Weekend Celebration at the winery (3238 Rail Stop Road, Markham, Va.), about an hour from downtown D.C.

For $25 per person (no reservations required), you'll receive two meal tickets, the chance to win door prizes, Irish party favors, live music and all the wine that Mascot Buddy will allow. Menu items include shepherds' pie, Irish stews, and Irish cheeses and candies.

Chateau O'Brien sits on 15 acres of vineyard, with three tasting rooms, a large deck overlooking the vineyard and a fireplace room (Buddy's favorite).

Wines at the vineyard range from viogniers to Chardonnays to mensangs. Bottles of wine range from $20/bottle up to $79/bottle for limited and late-reserve wines.

If you stop by other than for the St. Paddy's event, here's what you need to know: The tasting room is open Thursday through Monday, 11 a.m.–5 year-round. Tasting fees are $5 per person, the Cellar Collection is $10 per person and private reserve is $35 per person. Appointments are not required. You must be 21 or older to enter.