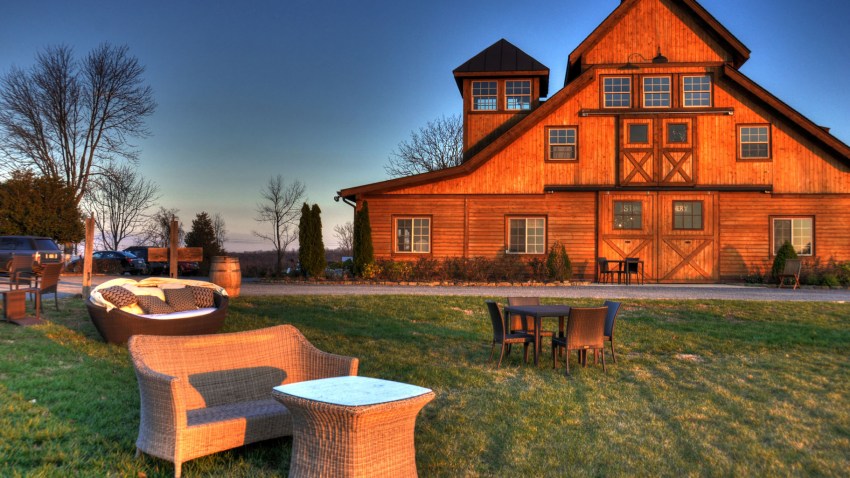 Proximity to wine is one of those vital life needs, right? While many Virginia wineries are 2-3 hours away from the city (the horror), Stone Tower Winery in Leesburg is just about an hour away.
We hadn't heard of Stone Tower Winery before the day we met the owners Mike and Kristi Huber (also owners of Belfort Furniture) at an event where they were debuting a new furniture collection. They seemed just as passionate about wine as the furniture, which is probably a good thing.
So we had to go check out the winery. Once we made our way down to the winery on the very long (but worth it) country road -- we couldn't help but notice the view. It's the Hogback Mountain view that some wineries are fortunate to have, including the likes of Cana and Leaves of Grass.
The Scene
The most fun things to do and places to be in D.C., Maryland and Virginia
You'll also notice the new tasting room being built, which -- if it looks anything like the blueprint -- will likely end up a very popular destination. Opening in November 2014, the new tasting room will have the views, multiple levels and an almost must-visit enticement about it.
It will feature a lower-level barrel room the entire length of the building (with the tasting room above), and a green landscape that leads directly to the patio from the pond in the valley below.
It will be quite vast, and when something is big, you tend to think big crowds -- which is when we asked about group tastings. Kristi Huber said that they discourage large groups (except for private weddings) only because of the lack of intimacy they bring. So luckily, we won't see masses of cargo vans pulling up anytime soon.
As for the Huber family, we are sort of watching their life play out before us. They just had their first wedding at the winery last June where they gave away their older daughter, Lauren. Their younger daughter, Lacy, works in the tasting room where you'll find her most weekends. New weddings, new views, new endeavors and new wine.
And as for that wine, they offer two types of Chardonnay, a Viognier and a Sanglier blend with tastings at $10/person -- wine glass included.
Kristi Huber said they want "to be making some of the best wines in the nation, running a fantastic vineyard and winery operation in Loudoun County and sharing our great wines, views, and property with others."
And as their corks say, you'll find 'Joy in Every Bottle'."
Stone Tower Winery is located at 19857 Hogback Mountain Road, Leesburg, VA, about 60 minutes from downtown D.C.