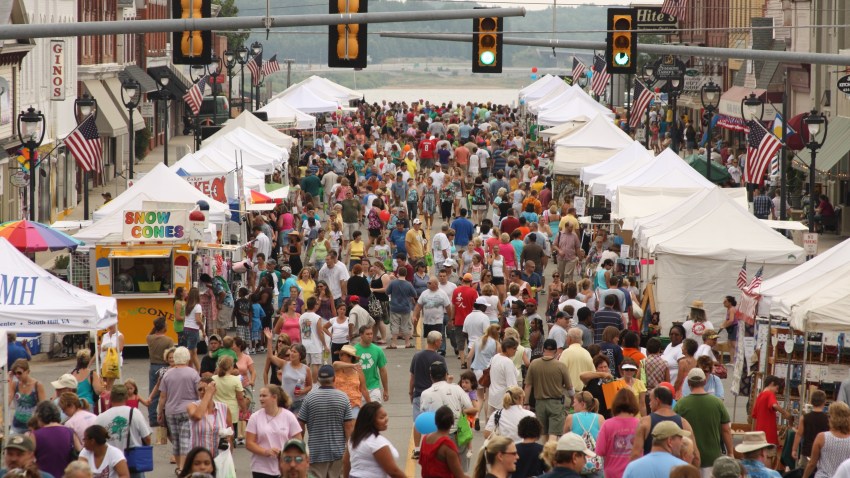 Having been born in the Land of 10,000 Lakes, I always get excited when there's a worthwhile event taking place near a lake. The Virginia Lake Festival on Buggs Island Lake is one of them.
Buggs Island Lake, located in Clarksville, Virginia, is the largest lake in Virginia and one of the best for fishing on the East Coast. Every year, the town Clarksville hosts the Virginia Lake Festival, an artsy and outdoorsy festival that draws tens of thousands of people from all over the region to one of the state's most scenic backdrops.
The Scene
The most fun things to do and places to be in D.C., Maryland and Virginia
The event features dozens of food vendors, live music, helicopter rides and fireworks. Events specially geared toward kids include tethered hot air balloon rides, games, rides and arts and crafts.
The lake also offers many outdoor activities like biking, fishing, golf and marinas to park your boat, if you bring one. If you don't have a boat, you could always rent one -- GetMyBoat will have one ready for you when you arrive.
The festival happens July 17-20, in Clarksville, Virginia, about four hours from downtown D.C.
Thursday, July 17:
6 p.m. -- Tethered Hot Air Balloon Rides. Games, snow cones and popcorn.
Friday, July 18:
All Day -- Sand sculpture artists (Virginia Avenue and 4th Street)
6:30 p.m. -- Food vendors, childrens' rides and games, Lakefest raffle drawing
7 p.m. -- Welcome ceremonies
7:30 p.m. -- Josh Rogan performs
Saturday, July 19:
6 a.m. -- Hot air balloon show
8 a.m. -- LakeFest 5K run/walk
9 a.m.-5 p.m. -- Arts and crafts, sand sculptures, water balloon launchers, helicopter rides, petting farms, picnics, antique auto show, magic shows,
11 a.m.-2 p.m. -- Celeste Kellogg and JRyan perform
5-10 p.m. -- Select group of vendors stay open late
6 p.m. -- Childrens' rides and games, hot air balloon show
7 p.m. -- The Green Boys perform
9:30 p.m. -- Gathering of the boats, fireworks
Sunday, July 20:
6 a.m. -- Hot air balloon show