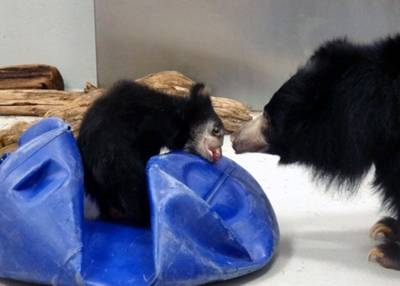 Here's your chance to name the newest member to the National Zoo.
The Smithsonian's National Zoo is inviting its Facebook fans to name their latest sloth bear cub.
Beginning Wednesday until May 3 the Zoo is having a special Facebook poll where you can vote on one of the three names that best reflect the cub' traits, characteristics and personality according to keepers.
The Scene
The most fun things to do and places to be in D.C., Maryland and Virginia
The name choices are:
Ravi: This name in the Hindi language means "sun." The cub was born to mother Hana and father Francois on December 19, just in time for the winter solstice.
Bandar: In the last few weeks, the cub has grown increasingly independent and active. He will balance himself atop wobbly enrichment toys (such as logs and boomer balls) and has taken to climbing the mesh in his enclosure. For this reason, keepers chose the name Bandar, a Hindi word meaning "monkey."
Hank: As a way to honor the cub's parents, Keepers suggested the name Hank, a combination of Hana and Francois (nickname "Frank").
In keeping with the social media trend, the Zoo will announce the name on Facebook after votes are tallied.
The cub has spent the past 4 months bonding with Hana in a den near the Asia Trail exhibit.
The International Union for Conservation of Nature lists sloth bears as vulnerable because populations in their native Bhutan, India, Nepal and Sri Lanka are decreasing due to loss of habitat and poaching.