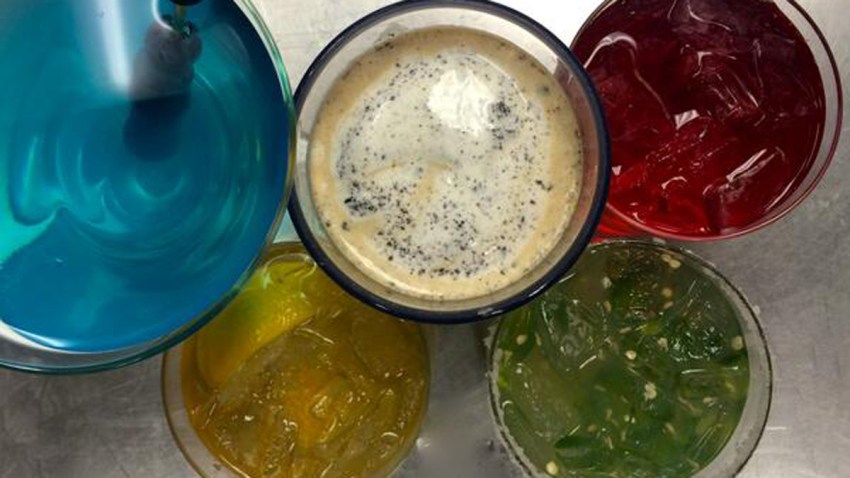 Sochi, Russia may have the Olympics (and good vodka), but there's certainly enough District restaurants and bars helping to bring the Sochi spirit to Washington, D.C.
To help you ring in the 2014 Winter Olympics, we've compiled a list of places around town with unique meals, deals and happy hour steals where you can watch the Olympics through Feb. 23.
Bar Rouge: Through Saturday, Feb. 23, this Kimpton hotel bar will offer a nightly Rouge, White & Blue happy hour from 5 p.m. to 8 p.m. If Team USA wins gold that day, the entire menu will be 10 percent off from 8 p.m. to 10 p.m.
The Scene
The most fun things to do and places to be in D.C., Maryland and Virginia
1315 16th. St. NW
Washington, D.C. 20011
202-232-8000
Mari Vanna: The Russian eatery has added three traditional Sochi dishes to their menu: shish kabob ($22); solyanka soup ($11), a spicy soup with cuts of meat and chopped vegetables; and khachapuri ($21), a traditional Georgian dish of cheese-filled bread.

1141 Connecticut Ave. NW 20036
Washington, D.C.
(202) 783-7777
The Graham Georgetown: Not only have they concocted a special Sochi martini, made with fresh caviar and vodka, they'll also celebrate every time the U.S. wins a gold medal with a complimentary shot or glass of Prosecco.
1075 Thomas Jefferson St. NW
Washington, D.C. 20007
202-337-0900
Socci Urban Italian Kitchen and Bar: They'll also be hosting Wii games Feb. 12 and 19 from 4 p.m. to 7 p.m.
2800 S. Potomac Ave.
Arlington, VA 22202
703-413-1300
Redwood Restaurant and Bar: Enjoy a family friendly "Olympic Burger Competition" throughout the Olympics with three different burgers: an American, Russian and Jamaican. They'll also have discount drinks to help wash those down.
7121 Bethesda Lane
Bethesda, MD 20814
301-656-5515
Loews Madison Hotel: Drink like a true Russian here throughout the Olympics with the Moscow Mule cocktail, made of Russian standard vodka, infused black peppercorn and ginger beer, served in an copper mug.
1177 15th St. NW
Washington, D.C. 20005
202-862-1600
Lincoln and Teddy & the Bully Bar: Enjoy your own gold, silver and bronze medals with uniquely concocted medal-themed drinks all day every day throughout the Olympics.
Lincoln:
1110 Vermont Ave. NW
Washington D.C. 20005
202-872-8700
Teddy & the Bully Bar:
1200 19 St. NW
Washington, D.C. 20036
202-386-9200
Topaz Bar: Their "Go for the Gold" happy hour extends from 5 p.m. to 8 p.m. throughout the games. For each U.S. gold medal won, guests receive $1 off the bill.
1733 N St. NW
Washington D.C. 20036
202-393-3000
Lou's City Bar: Celebrate the Olympics with drink discounts on beer, cider and rail drinks.
1400 Irving St. NW
Washington, D.C. 20010
202-518-5687
Buffalo Billiards: Get into the American spirit with Olympic drink discounts at this all-American restaurant and bar.
1330 19th St. NW
Washington, D.C. 20036
202-331-7665
Union Pub: They have more than 25 flat-screen TVs, 35 different crafted beers, and a bottomless brunch on Saturday and Sunday.
201 Massachusetts Ave, NE
Washington, D.C. 20002
202-546-7200
Or Eat Like a Russian at Home
If you can't make it out for any of the Olympic specials going on at local restaurants and bars, here are 10 authentic Russian dishes that you can make in your own kitchen:
1. Russian Pirozhki
2. Russian Beet Salad with Herring
3. Horseradish Beets (Chrin)
4. Borscht
5. Blini (Russian Pancakes)
6. Stuffed Cabbage
7. Pierogi
8. Beef Stroganov
9. Knish
10. Pickled Cucumbers