The following content is created in consultation with TD Bank. It does not reflect the work or opinions of NBC Washington's editorial staff. To learn more about TD Bank, click here.
Fifty years ago, a riot in a Greenwich Village bar marked a milestone in the global movement toward a more inclusive world. Significant strides have been made since then, fueled by grassroots organizations, corporations with deep roots in the communities they serve and young activists like Addison Moore.
Addison first began developing a passion for activism and advocacy as a high school freshman. "I attended this leadership summit for the DC and Maryland area where I got to interact with other LGBTQIA+ youth who are involved within their communities," Addison recalls. "It was really cool to be able to meet other youth who are so involved in their communities and be able to acquire so many leadership skills."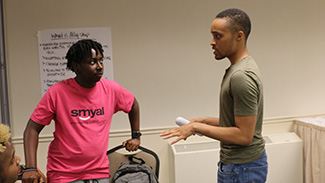 Leading With Pride, the summit Addison attended, is an annual event sponsored by a DC and Maryland area non-profit called Supporting and Mentoring Youth Advocates and Leaders (SMYAL). SMYAL works to create a comfortable space for LGBTQIA+ youth to interact with each other and acquire leadership skills. In addition to Leading With Pride, the organization hosts regular workshops and an annual activist camp that gives DC youth the opportunity to learn more about political advocacy, grassroots organizing and activism.
Addison credits SMYAL for helping foster the confidence and leadership skills necessary for that important role, crediting SMYAL for reassuring LGBTQIA+ youth that anyone can be a leader, regardless of different identities. "Before coming to SMYAL, I didn't like public speaking and I wasn't secure in my identity," Addison says. "It kind of reflected in the way I spoke to people in the way that I advocated for myself." Today, Addison's work involves leading workshops that help develop young activists who want to address health disparities in the LGBTQIA+ community.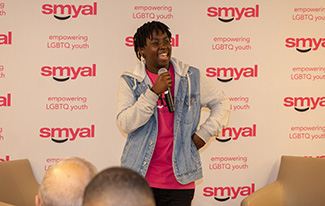 While a great deal of progress has been made to improve freedoms for the LGBTQIA+ community, more remains to be done to change society as a whole. TD Bank is building on its long history of empowering change and nurturing progress through its Ready Commitment initiative, which will distribute a billion dollars by 2030 to recipients including SMYAL.
Says Terry Kenny, Market President of Metro Washington, Baltimore and Delaware at TD Bank, "Too often, and in too many places, members of the LGBT have concealed their feelings for fear they will experience negative consequences for simply being who they are. We're working to change this and give the LGBT community the confidence to be their true selves no matter where they go."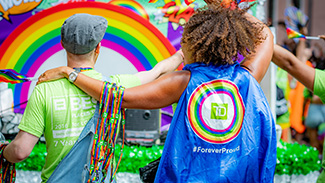 This is an important piece of the puzzle, Addison says. "Youth know about us, and people in the community do, but sometimes it's difficult to get that message out to a wider audience. Having corporations involved helps give visibility."
More and more, younger generations are assuming leadership roles and using the work done by those who came before them as a stepping stone towards acceptance. For Addison, it starts by knowing that advocacy and activism looks different for every human being. "Leadership doesn't always look the same for everyone. But, if they want to be a leader they can be," Addison says. "They just have to find a way that works for them, just like I found a way that works for me."
TD Bank is committed to serving the needs of local customers by fostering a comfortable and respectful workplace where all employees can bring their whole selves and reach their full potential. Click here to learn more about TD's commitment to inclusivity across their company and the communities they serve.