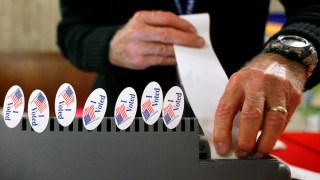 There are no statewide races in Maryland Tuesday, but a number of cities will elect mayors.
In Prince George's County, the winner of the mayoral race in College Park will make history. If Councilwoman Denise Mitchell wins, she will become the city's first black female mayor. Her competitor, Councilman Patrick Wojahn, would be the first gay man to become mayor.
College Park is also using voting machines for the first time to handle close races and high voter turnout.
Mayoral races are also being held in Bowie, Gaithersburg, Greenbelt, Laurel, Rockville and Takoma Park.
City council seats are also open in several of those cities, with many jurisdictions reporting record competition for those seats.
Polls in the state will be open until 8 p.m.