Protesters Rally Outside Russian Embassy for Convicted Feminist Punks
Friday, Aug 17, 2012 | Updated 3:28 PM EDT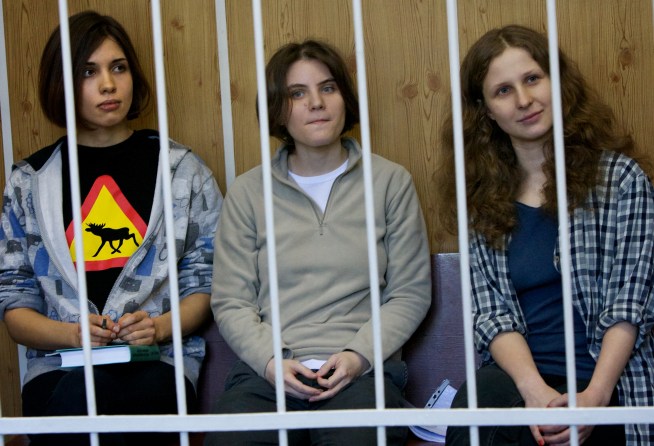 ASSOCIATED PRESS
From left, Nadezhda Tolokonnikova, Maria Alekhina and Yekaterina Samutsevich, members of feminist punk group Pussy Riot, sit behind bars at a court room in Moscow July 23. They chanted a "punk prayer" against President Vladimir Putin from a pulpit inside Russia's largest cathedral.
About a dozen demonstrators protested outside the Russian Embassy in Washington Friday as three members of the provocative Russian punk band Pussy Riot were found guilty of "hooliganism motivated by religious hatred."
The protesters, who arrived at the embassy on Wisconsin Avenue at daybreak Friday, held bright yellow signs reading "Free Pussy Riot." The protest was hosted by Amnesty International, which said it gave the embassy a petition on Tuesday with 70,000 signatures asking for the prisoners to be released.
Later Friday, a Russian court sentenced each of the three band members to two years in prison. The women were tried after storming the altar of Moscow's Christ the Savior Cathedral in February wearing bright ski masks, tights and short skirts to hold a "punk prayer" to get rid of Russian President Vladimir Putin.
The trial has drawn international outrage and several celebrities have also called for the band members to be freed.
Other protests were planned in five other U.S. cities, including New York, Chicago, Minneapolis, Portland, Ore., and San Francisco.