Pedestrian Fatally Struck by Trash Truck in D.C.
Friday, Jan 17, 2014 | Updated 10:32 PM EDT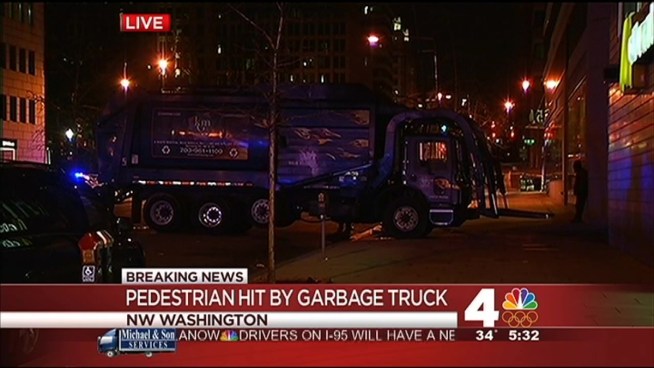 Police in D.C. are on the scene of an accident where a pedestrian was struck by a garbage truck.
A man died after being struck by a trash truck Friday morning, D.C. police said..
Rescue crews had to pull the victim from underneath the truck after he became trapped by the truck's rear wheels. Police say the accident happened about 4:30 a.m. Friday at 13th and I streets NW.
News4 cameras showed the front end of the truck on the sidewalk. Police believe the driver may have been trying to back into an alley.
The driver of the truck continued for about half a block before realizing he struck someone and calling 911.
Thirteenth Street between New York Avenue NW and I Street NW was closed while police completed their investigation, but it has since re-opened.