Maryland Lawmakers Summoned for Special Session
The special session is to come to an agreement on a tax deal.
Saturday, May 5, 2012 | Updated 11:27 AM EST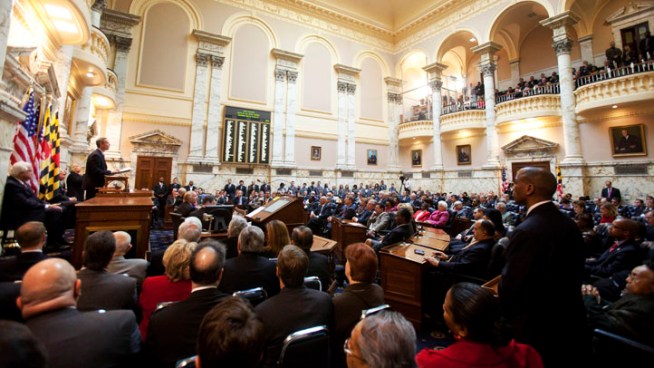 ASSOCIATED PRESS
Gov. Martin O'Malley, at podium, delivers his annual  State of the State address to a joint session of the Maryland General Assembly, Tuesday, Feb. 2, 2010, in Annapolis, Md. (AP Photo/Rob Carr)
Maryland lawmakers will soon be back at work to prevent $500 million in cuts to the state's budget.
Gov. Martin O'Malley announced a special session will begin May 14 to pass a tax package.
Because the General Assembly couldn't come to an agreement before the regular session ended, automatic cuts were triggered that will take effect July 1.
It includes cuts to public education and other state agencies.
Governor O'Malley demanded action, telling The Washington Post that the stalemate is unacceptable.
"There is too much at stake not to move forward. I'm confident we can come together with the Senate president and House speaker to complete this most important work for the people of our state."
O'Malley's proposed plan includes a tax increase on the wealthy, and the first step to shift teacher pension costs from the state to counties.
Republicans are adamant that Maryland can survive the pending cuts.
Two Republican leaders wrote an opinion piece in Maryland newspapers saying the state will be just fine without a tax increase.
"The legislature should take a breather, live with the budget just passed in April, and begin the 2013 session with a new sense of purpose in January."