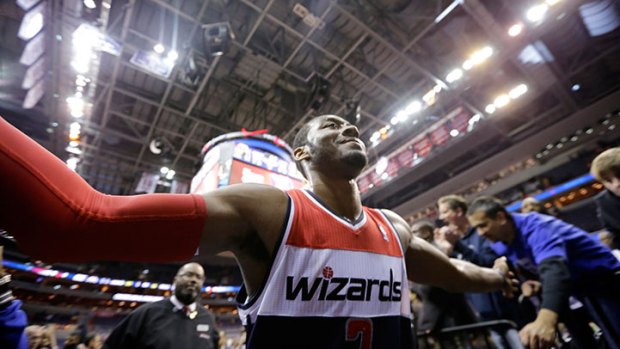 AP Images
Washington Wizards guard John Wall celebrates as he comes off the court after an NBA basketball against the Memphis Grizzlies Monday, March 25, 2013 in Washington. Wall had 47 points, and the Wizards won 107-94. (AP Photo/Alex Brandon)
Monday was the first day of Passover, so if you're Jewish like me, you were probably asking why this night is different than all other nights. Well, besides eating matzah and bitter herbs, John Wall set a new career-high, scoring 47 points in the Wizards' 107-94 victory over the Grizzlies.
Wall bested his previous high of 38 points on 13-of-22 shooting and threw in eight assists and seven rebounds for good measure. It was the highest-scoring output by a member of the Wizards since Antawn Jamison scored 48 nearly five years ago and in the NBA as a whole since Kevin Durant scored 51 in February 2012.
Wall's big performance caught the eyes of others who know a thing or two about, well, big performances.
We all see you, John. We all see you.
---
Follow Adam on Twitter @AdamVingan and e-mail your story ideas to adamvingan (at) gmail.com.