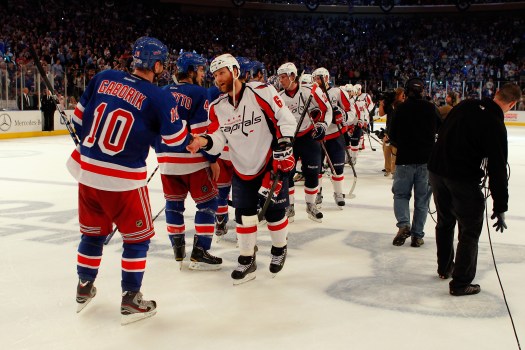 Getty Images
Dennis Wideman of the Washington Capitals congratulates Marian Gaborik of the New York Rangers after the Rangers won 2-1 in Game Seven of the Eastern Conference semifinals.
As media members and fans, we only get to hear what athletes say before and after games, so when the opportunity to hear what they say during games -- and more importantly, to each other during games -- presents itself, it is way too good to pass up.
NHL Network -- via the Washington Capitals' official website -- has released its "Wired For Sound" package for the Caps' Eastern Conference Semifinal series against the New York Rangers. You know what happeneed, but now hear what happened.
Fair warning: for those of you looking for some "HBO 24/7" style cursing, you're not going to find it here, but you will find some auditory gold regardless.
---
Adam Vingan is co-founder and editor of Kings Of Leonsis, a Caps-centric blog. Follow him on Twitter @Adam_KOL and e-mail your story ideas to adamvingan (at) gmail.com.