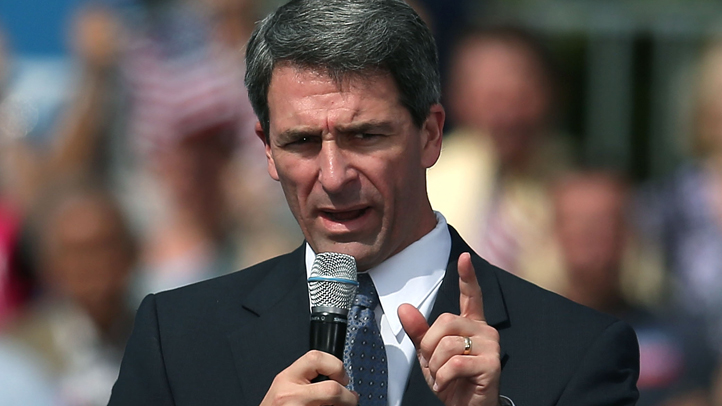 Buzzfeed dug up an amendment that then-state Sen. Ken Cuccinelli filed in 2006 to change Virginia's state song to The Beatles "Taxman."
At that time, the state was without a song because its old song, "Carry Me Back to Old Virginia" was retired in 1997 after civil rights groups protested the song's lyrics as racist.
So State Sen. Charles Colgan introduced a bill to designate the traditional folk song "Shenandoah" as Virginia's "interim state song."
First Read — DMV
A place for insight, analysis and exclusives on the people who shape politics in the District, Maryland and Virginia.
But Cuccinelli objected and offered up the Beatles anti-big government song instead. So why the "Taxman?"
Buzzfeed reports that Cuccinelli said at the time that his constituents would connect more to "Taxman" than to "Shenandoah," because "they feel like all they ever get from Richmond is more taxes."
The amendment was apparently mocked by his cohorts and never voted on.
IN OTHER NEWS:
* In a Quinnipiac poll looking at 2016 Democratic presidential field, Sen. Mark Warner and Gov. Martin O'Malley each captured just 1 percent of voters surveyed. Even if Hillary Clinton -- who polled at 65 percent -- doesn't run, their numbers aren't much better. (Washington Examiner)
* A fun Friday day game: Who said it? Terry McAuliffe or a character from "House of Cards"? (Buzzfeed)
* Virginia Gov. Bob McDonnell is sticking with his story and said Thursday that he viewed a $15,000 gift from a donor to pay for catering at his daughter's wedding as a gift, and felt no need to report it. He added that he hasn't decided which approach he favored on ethics and disclosure reform. (Washington Post)
* A judge granted Attorney General Ken Cuccinelli's request to withdraw from the embezzlement case against a former Virginia Executive Mansion chef. (Associated Press)
* Maryland Gov. Martin O'Malley signs the death penalty repeal into law. (News4)
* The Washington Times asks: "But if "Redskins" demeans Indians, why wouldn't 'Redtails' demean fighter pilots?" (Washington Times)
* A group called Citizens for an Elected Board launched a petition drive to fight the Prince George's County Public Schools takeover at a community meeting Thursday night. (News4)
* A new D.C. Department of Health ad campaign, K2 Zombie DC, uses zombies to keep young people off "fake" marijuana. (Washington City Paper)