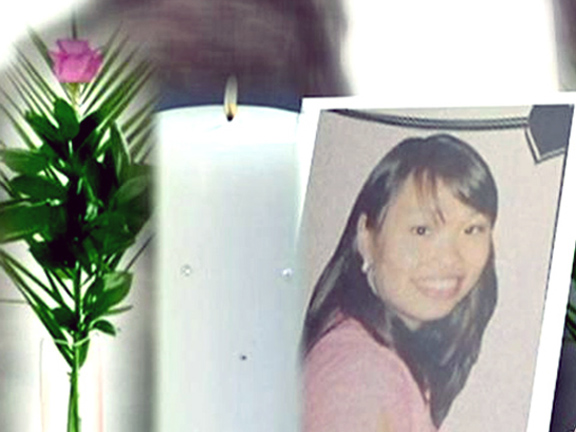 Little by little, people filed into the Battell Chapel at Yale to attend a private memorial service for Annie Le, the Yale grad student who was killed in a Yale research lab last month.
"She's such nice, sweet girl, very promising graduate student, and so it's such a tragedy," said Sean Xiaoyong, a Yale faculty member who only worked with Le on a few occasions.
The Yale community, like many others, is still grieving over the student who was found stuffed in a lab wall on the day she was scheduled to marry the love of her life, fiancé Jonathan Widawsky, in Long Island.
U.S. & World
The day's top national and international news.
But as they sat in the chapel with somber faces, they were greeted by Annie's smile. A picture of her was set up in front next to a single candle and pink roses.
The memorial service was filled with music and remembrances of a woman who was taken too soon. Each person who stepped up to the podium shared memories of Annie. They called them "Annie-isms" and described the little things she would do each day.
"I didn't know she liked Popeye's, I like Popeye's, too. And she has the body where she doesn't eat Popeye's, so that's something that stood out," said Michael Howard of New Haven.
Another "Annie-ism" was wearing 5-inch heels while conducting her lab experiments and making sure she wore a skirt each Friday. But the stories that stood out most were the ones that showed Annie's love for others.
Anton Bennett, the professor who ran Annie's pharmacology labs, told a story about Annie going out of her way to get a bagel slicer for her classmates just because they were tired of cutting bagels with plastic knives. She was passionate about her friends, her family, her fiancé and her work.
"Who knows where she'd have gone in life and what benefit she would have brought to all of us. Her vitality, her eagerness to achieve and really do well," Pastor Dennis Smith, a family spokesman, said.
Le's team experimented on mice as part of research into enzymes that could have implications for the treatment of cancer, diabetes and muscular dystrophy.
Not all of Annie's family could attend the service, but her fiancé, Jonathan Widawsky, sat in the front row.
Near the end of the service, Annie's friends asked everyone to live as Annie did. To remember her vibrant smile and her warm personality and pass it on by being the kind of person Annie was.
Raymond Clark III, 24, a former Yale lab tech, was charged with Le's murder. He is due in court next week for a probable cause hearing.
Copyright AP - Associated Press