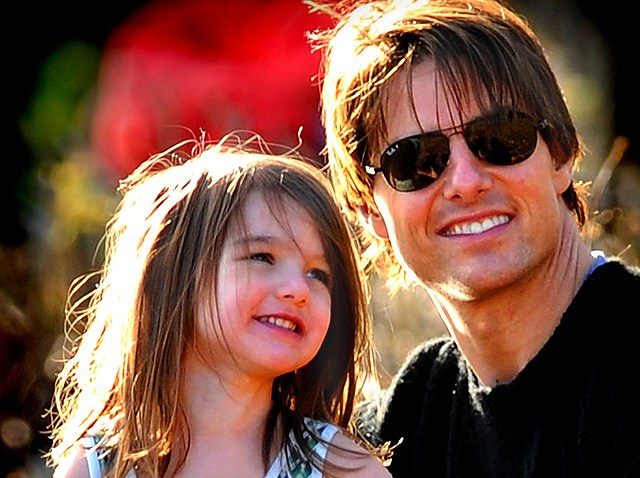 Suri Cruise continues to rewrite the book on toddler fashion.
The 3-year-old daughter of Tom Cruise and Katie Holmes was spotted in Boston last fall wearing high heels, and recently, lipstick. Now, she's toting around another grown-up accessory — an $850 Salvatore Ferragamo "Sofia" handbag, as identified by Us Weekly.
The family was in Jamaica when a photographer spotted Suri's Sofia, which is a miniature version of the same bag Holmes was also carrying, the $1,850 Sofia purse.
U.S. & World
The day's top national and international news.
Holmes hasn't spoken out about Suri's pricey accessory, but in the past she defended Suri's footwear, saying, "She, like every little girl — she loves my high heels," and that they are "ballroom dancing shoes for kids."
Kevin Eubanks isn't leaving 'Tonight'
When "The Tonight Show" returns on March 1 with Jay Leno back at the helm, band leader Kevin Eubanks will indeed be there too, according to sources close to Eubanks.
An erroneous report that claimed Eubanks was leaving to pursue new opportunities made the rounds Monday afternoon, and it went so far as to say that onetime Hootie and the Blowfish frontman Darius Rucker would take Eubanks' place.
And soon there will be proof of Eubanks' continued pairing with Leno: The two are scheduled to tape a promo for the show on Wednesday, and it will air prior to "The Tonight Show" return in March.
Sienna Miller engaged (again)?
Sienna Miller and Jude Law dramatically parted ways in 2006, a year after it was revealed that Law had an affair with his children's nanny. At the time, the two were engaged, and apparently, even though Miller called off the wedding, she didn't return the ring.
Life & Style is reporting that Miller has been spotted wearing the ring again, and it could mean the two are re-engaged.
"She wore it for fun, probably as jewelry," a friend told the magazine. "But she wore it with close friends, and everyone saw it — there's no denying it."
However, the friend said the couple isn't headed to the altar soon, though it could eventually happen.
"(They) aren't engaged," said the source. "I wouldn't be surprised if she and Jude go all the way. She's very happy."
The stars met on the set of 2004's "Alfie."
Robert Pattinson prefers to hide under tables
"Twilight" heartthrob Robert Pattinson has been outspoken about his discomfort with fame before, but in the new issue of Vogue, he goes into more detail about coping with being recognized.
"I went out a couple of times with Pierce (Brosnan). He's totally recognizable, and he makes no effort to tone it down," Pattinson said. "Some people were glancing over at us in the restaurant, and he just went over and introduced himself. And it does work. It dissipates all the attention."
Pattinson doesn't use that method himself, though. He said to Vogue, "I just crawl under the table."
Courtney Hazlett delivers the Scoop Monday through Friday on msnbc.com. Follow Scoop on Twitter @courtneyatmsnbc.
Copyright MSNBC - MSNBC