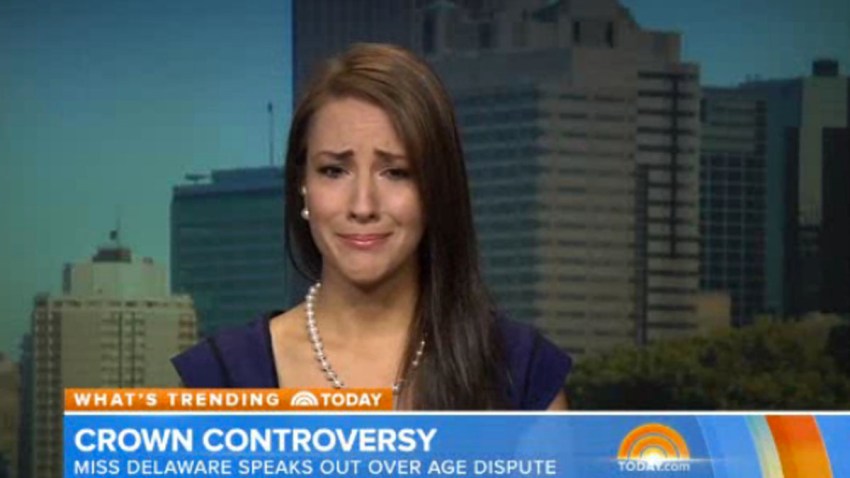 Former Miss Delaware Amanda Longacre broke down in tears on NBC's "Today" show as she described her disappointment over being stripped of her crown because of her age.
"It's like they're trying to erase me in a way like it never happened," she said.
Longacre disputed Miss America pageant organizers claims that she violated the age rules for competition.
U.S. & World
The day's top national and international news.
"I am so, like really upset because I just found out Tuesday that I was stripped of my crown over an age clause that clearly the board of my state didn't even know about," Longacre said. "So I am left here wondering why I was put in this position to begin with."
First runner up Brittany Lewis, 24, was awarded Longacre's crown Thursday. But Longacre is not going out without a fight. She told the "Today" show that she is "discussing options" with a lawyer.
Attorney Mark Billion of Wilmington, Delaware, did not respond to a request for an interview at the time this was published. But he told The News Journal that he believes there is a "breach of contract."
"It really hurts because when your peers vote you for Miss Congeniality and you work so hard to get to this position," Longacre said after being overcome with emotion on "Today."
Pageant officials on Tuesday told Longacre that she would not be eligible to compete in the Miss America pageant in September because of her age, NBC10 reported. She said she was told that Miss America can't be older than 24 the year she is crowned.
Longacre will turn 25 on October 22, two months after the Miss America pageant. She explained on "Today" that she submitted all the proper paperwork to prove her age, and local pageant officials took no issue with it at the time she applied for a chance at the Miss Delaware crown.
"It's not fair because I won outright," she said. "And I deserve to represent my state and I want this chance still to go to Miss America."
The Miss America Organization on Thursday posted on Facebook a status wishing Longacre "well on her future endeavors." The post also included a headshot of Lewis that congratulated her on being crowned Miss Delaware 2014.
Longacre's winning photo from June 14 is still on the Miss America Facebook page as of Friday morning.
The Miss America Organization did not respond to a request for an interview at the time story was published.
(function(d, s, id) { var js, fjs = d.getElementsByTagName(s)[0]; if (d.getElementById(id)) return; js = d.createElement(s); js.id = id; js.src = "//connect.facebook.net/en_US/all.js#xfbml=1"; fjs.parentNode.insertBefore(js, fjs); }(document, 'script', 'facebook-jssdk'));