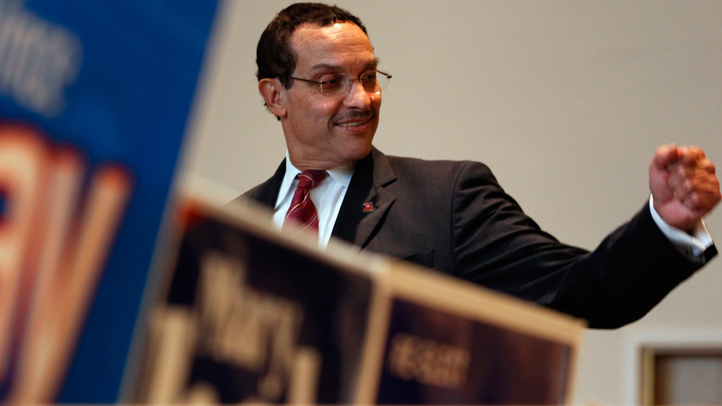 On Tuesday night, I attended Mayor Vince Gray's State of the District address.
To date, Gray has been mum about a reelection bid. In his speech, he sounded an awful lot like a mayor preparing to run.
Crime: At an all time low.
Jobs: We are creating them and have a plan to create a lot more.
Education: Test scores are on the rise, but we still have work to do.
Economic Development: 55 construction cranes dot the District skyline.
But wait, there's more.
Are you a D.C. government employee? Gray wants to give all of you a raise.
Are you struggling to make ends meet in a city where the cost of housing is among the highest in the nation? How about a plan to invest $100 million in 10,000 new affordable housing units.
Gray's base -- the voters who propelled him to an upset victory over Adrian Fenty in 2010 -- is middle- and low-income residents. The waiting list for people in D.C. seeking affordable housing is at 70,000 names and growing.
The message to his supporters is clear: I hear you.
The message to would-be opponents is unmistakable: Top that.
The day before Gray's speech, Council member Tommy Wells formed a mayoral exploratory committee.
Gray's $100 million housing proposal addresses the number one issue voiced by residents at a 2012 summit held by the mayor.
Wells, on the other hand, is talking about "livable, walkable" neighborhoods.
If you can't afford to live in the District, I doubt you care about how walkable it is.
If Gray seeks reelection, Wells will not be his only opponent.
Council member Muriel Bowser, who hails from vote-rich Ward 4 and enjoys the support of many key players from the Fenty machine, is a likely candidate. Bowser could be formidable and isn't yielding an inch to Gray.
In response to his housing proposal, Bowser noted that funds intended for developing affordable housing were instead used to assist low-income families with rent payments.
A weak attack, but still, Bowser fired a shot.
Council member Jack Evans, a prolific fundraiser, also intends to run. In the past, Evans has not fared well in citywide races. In 1998, he garnered just 10 percent in his first mayoral bid. In 2005, Evans shut down a fledgling mayoral campaign after a disappointing poll.
But the city has changed and Evans believes he can now win. He has unabashedly staked out unique turf in District politics: Save money, while others say spend; lower taxes, while others say take more.
Other candidates may emerge. Some may bow out.
The next Democratic Primary is in April 2014. A lot can happen between now and then.
The U.S. Attorney has not finished investigating a myriad of scandals: Shadow campaigns, straw donors, lottery contracts and who knows what else.
If Gray runs, we will look back on his 2013 State of the District address as the soft launch. All the trappings of a campaign can be found in the speech: Accomplishments, vision and a boatload of money for the base.
Game on?