Three suspects age 19 and younger have now been charged in the death of Charles County high schooler Bradley Brown, county officials announced.
Keshawn Belasco, 16, and Mikayle Qawwee, 19, of Waldorf, were charged with first-degree murder, gun charges and armed robbery, the county sheriff's office said in an update Friday afternoon. Though Belasco is a juvenile, he was charged as an adult.
Belasco, Qawwee and 17-year-old suspect Darryl Freeman, who was arrested earlier this week, intended to rob Brown, charging documents say.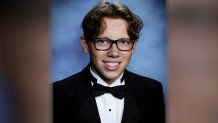 Officials said they texted each other two days prior, with one asking, "Where are the sweet licks?" in an apparent reference to committing a robbery.
Freeman appeared in court Friday morning wearing a striped jumpsuit. A judge denied bail.
Brown was killed Tuesday in the driveway of his home. The North Point High School senior was the son of a Prince George's County detective and the brother of two county officers.
According to police, Brown had been selling THC vape cartridges and Freeman allegedly sold marijuana. Police said in court documents in Freeman's case that Brown and Freeman communicated on Snapchat about the possible sale of THC vape cartridges. Both of the honors students and school athletes had a gun when they met at Brown's home, the documents say. The gun found next to Brown was his father's service weapon and hadn't been fired.
Anyone with information is asked to contact Charles County police.
Stay with News4 for more details on this developing story.