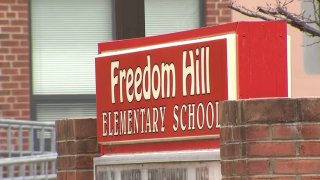 A former teacher and teacher's aide in Fairfax County, Virginia, accused of abusing non-verbal disabled children will receive no jail time.
Cylmeera Gastav and her assistant Cecelia Benavides worked at Freedom Hill Elementary School in what's known as an IDS classroom, working with students who have severe disabilities. They were originally charged with cruelty and injuries to children and assault and battery.
The women were accused of mistreatment that ranged from dragging a child from a wheelchair, slapping kids,
force feeding them to the point of choking, and, in one case, pouring hot sauce in a child's mouth.
Both women entered Alford pleas in June 2022, reducing felony charges to misdemeanors and recommending no jail time. Benavides entered the plea for six counts and Gastav for two.
We're making it easier for you to find stories that matter with our new newsletter — The 4Front. Sign up here and get news that is important for you to your inbox.
The judge originally refused to accept the pleas, saying she had deep concerns. But she signed off on the pleas Friday
after reading newly filed documents. Among the new documents were letters of support from other teachers and some parents.
The judge gave both women suspended sentences, and barred them from working with children for the next two years. Gastav also had to give up her teaching license.
"It upsets me because now any teacher can touch a student and there won't be any kind of punishment. Not one day [in jail]. What if I touched my child? I'm sure I'd get sentenced, I would go to jail," said Edgar Montano, whose son Steve was allegedly abused by Gastav and Benavides.
Local
Washington, D.C., Maryland and Virginia local news, events and information
Steve has a disability in which he is non-verbal and prone to seizures. He is one of six children allegedly abused.
Fairfax County Commonwealth's Attorney Steve Descano said it was a good outcome that spared families the stress of a trial and that satisfied most of them.
"The biggest thing these families wanted was for these individuals to never be able to teach or hurt children again
and we were able to get that, not only with the convictions, but as part of the the plea agreement, people gave up their teaching license," Descano said.
But for Steve's family who'd hoped for jail time, there was also something else missing: an apology.
"Rather than say apologies to my family, they gave 'thank yous' to the judge. Both of them. They just thanked her,
and that was all they said," Steve's brother Joey told News4.
Detectives began their investigation in Sept. 2019 when a teacher noticed bruising on a student and contacted Child Protective Services.
Incidents prosecutors described in court Monday are graphic. In one instance, a child was dragged from a wheelchair and thrown to the floor, they said. Another child was dragged around the classroom by their feet, and children were slapped and hit for misbehaving, as well as force fed to the point of choking, according to prosecutors.
A public health attendant in the school reported the assaults, which she says began in February 2019 and continued into the following school year. She kept a journal that detailed incidents of hitting, pushing, dragging and slapping the disabled students.
The employee reported her concerns to Principal Scott Bloom. Bloom spoke with Gastav, but he did not notify law enforcement.
An IDS teacher also observed and even videotaped some of the alleged abuse by Benavides. Court documents report one video shows Benavides walking up to a student and hitting him with her right forearm in the chest. The student fell to the ground. Another video shows Benavides shoving a rolling chair into a student seated on the ground.
The detective investigating the allegations reported the public health attendant witnessed a conversation in April 2019 in which Gastav told Benavides to deny any allegations she might be questioned about.