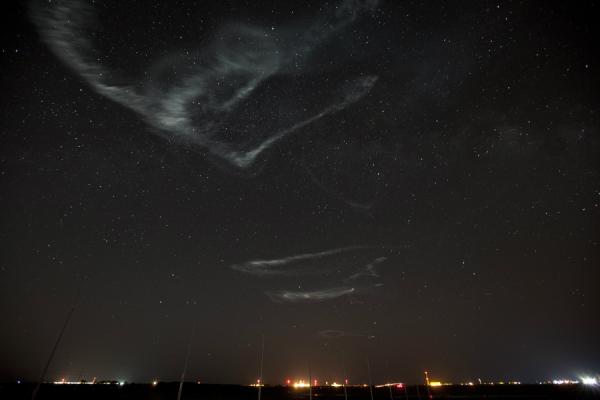 What exactly was that zig-zag pattern streaming across the sky early this morning? Viewers have been writing in with questions, so we did a little research...
Says Stephanie Walker: "As my husband and I were on our way into work this morning, a little after 5 a.m., we noticed a 'zig-zag' steam pattern" in the sky over Rt. 50 eastbound close to the exit for 66. It was the most amazing site..."
It turns out that the zig-zag patterns were part of clouds created by NASA rocket launches.
Five suborbital rockets were launched just before 5 a.m. on Tuesday on Wallops Island as part of a study of the upper level jet stream. Bad weather had postponed other planned launches last week.

The Anomalous Transport Rocket Experiment (ATREX) will help scientists understand the jet stream, which is located 60 to 65 miles above Earth's surface.
After launching, the rockets released a chemical tracer to form white clouds that allowed scientists and the public to visualize the winds.

A NASA news release says the launches and clouds were reportedly seen from as far south as Wilmington, N.C.; west to Charlestown, W.Va.; and north to Buffalo, N.Y.
Copyright AP - Associated Press