An average of more than 80 items are stolen from cars in Washington, D.C., each day, according to Metropolitan Police Department theft data released to the News4 I-Team. The plague of thefts from vehicles in the District in 2018 includes nearly 6,000 stolen handbags and purses.
"We are having break-ins every night," Advisory Neighborhood Commission member Denise Krepp said.
Krepp, who represents a neighborhood near RFK Stadium in Southeast D.C., said she and her husband suffered eight car break-in thefts last year.
"It takes less than 30 seconds to rummage through a car and take something," Krepp said.
D.C. police Cmdr. Duncan Bedlion said thieves are targeting items left visible inside cars, including bags, clothes and papers tossed on passenger seats. Bedlion said crooks strike during both daytime and late nights.
"We've seen some cases where day care workers have been targeted and construction workers, too, Bedlion said. "It's a crime that affects everybody."
Local
Washington, D.C., Maryland and Virginia local news, events and information
D.C. police said downtown areas, or streets near sports or musical events, are most likely to be targeted during evening hours, when cars from other neighborhoods are vulnerable to theft.
The D.C. theft data, released to the I-Team under the Freedom of Information Act, shows nearly 3,000 thefts of portable electronics from cars in 2018. The records also list approximately 2,800 computer hardware thefts and nearly 2,400 thefts of clothes from parked cars last year.
Other frequently stolen items included identity documents, credit cards, cash and tools.
Surveillance video from recent thefts show a variety of techniques are used to break into parked cars. In one recent case, a theft midday on a downtown street, a thief is shown smashing in a window with a large stick while turned away from the car to avoid flying glass. In other cases, special tools are used.
"The (thieves) will have some kind of punch device to break a window and take the item that's right there on the scene," Bedlion said. "That can be done in less than a minute."
Neighboring communities have created public awareness programs to raise attention to the risk of car break-ins. The Loudoun County Sheriff's Department launched a social media campaign called #9PMRoutine to remind residents to lock up valuables each night. Agency records show the number of car break-in thefts dropped from 171 in summer 2017 to 118 in summer 2018.
Howard County police said it is partnering with creators of an app called "Neighbors," which allows community members to share surveillance videos and interact with others about suspicious activities near cars and homes.
D.C. police are also reminding residents and tourists to #PROTECTYOURAUTO by locking your car, taking your keys and securing your items.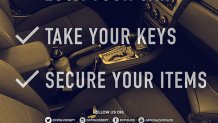 Reported by Scott MacFarlane, produced by Rick Yarborough, shot by Steve Jones and Jeff Piper, and edited by Steve Jones.