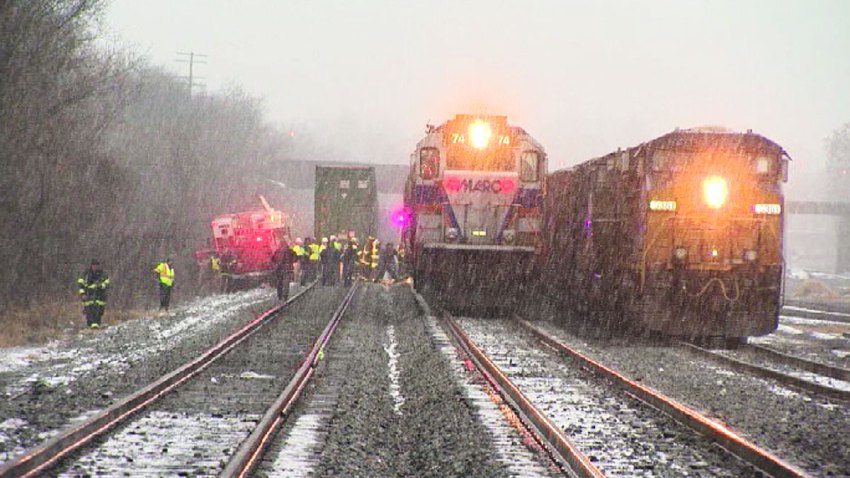 Two people in an SUV died after colliding with a Maryland commuter train during Tuesday morning's snowy weather, and investigators are looking at the possibility that the SUV maneuvered to avoid a stop gate.

A Maryland Transit Administration spokesman said initial reports indicate that the vehicle "went around" a gate at a railroad crossing Tuesday around 6:20 a.m. and was struck by Train 845 headed to Washington's Union Station.
It happened outside the St. Denis station, between Hollands Ferry Road and Paca Street, Baltimore police said.
The driver of the Volvo SUV, a woman in her early to mid 20s, died at the scene. Her passenger, a 38-year-old man, was taken to an area hospital, where he was pronounced dead.
About 20 passengers were aboard the train at the time of the crash. No injuries among the passengers were reported.
"The fire trucks, police all over the place, they had it blocked off so we couldn't get down Hollins Ferry Road at all," nearby resident Valerie Perkins told WBAL.
She said at the time of the accent, snow was falling heavily and it was hard to see. "I feel so bad for the people it happened to and actually it was not clear at all," she told WBAL.
While no cause has been determined yet, Perkins and other neighbors say they've seen drivers make outrageous moves at this crossing, trying to beat trains.
The Baltimore City Police crash team is handling the investigation.
MARC's Camden Line was suspended in both directions for about two hours after the crash. Camden Line tickets were accepted on Metro and on MARC's Penn Line during the closure.
MARC was running fewer trains Tuesday due to wintry weather. The Camden Line between Washington and Baltimore was using an abbreviated "S" schedule. The number of trains in each direction is reduced from nine to six.
On the Brunswick Line, MARC canceled its westbound afternoon train No. 879, which normally departs Washington at 5:40 p.m.
MTA said passengers could take train No. 871, departing Washington at 1:30 p.m., all the way to Martinsburg, W.Va. That train normally terminates in Brunswick.
---
WBAL contributed to this report.
Copyright AP - Associated Press