In a brazen attack, a man wielding an ax tried to hurt a D.C. police officer early Friday morning, striking his vehicle and getting into a struggle with the officer.
The officer wasn't struck by the ax, but he was injured in the altercation that followed as he tried to tackle the assailant.
The suspect got away, said D.C. police.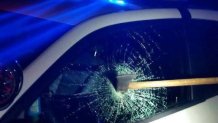 It happened shortly before 3:20 a.m. Friday, as an officer with the city's Fifth District was patrolling in a marked squad car in the 3800 block of 13th Street NE. The officer noticed what police called a suspicious person, who avoided the officer by entering an alley. The officer followed in his car, where he was ambushed by the man with the ax, police said.
The ax shattered the car's window, and the officer got out of his car and chased the man.
In a brief struggle that followed, the officer suffered a dislocated shoulder and injured knee. He was not injured by the ax.
The officer was taken to a local hospital and is expected to recover.
Police K-9 units tracked a suspect to the 1000 block of Perry Street NE, near Michigan Avenue, but have not found him.
Local
Washington, D.C., Maryland and Virginia local news, events and information
Neighbors who usually describe the area as pretty quiet are horrified.
"Yeah, I did hear a yell. I heard a scream," said nearby resident Christopher Niosi. "I have a seven-car garage back year. I'm wondering if they tried to get in."
Niosi's backyard stretches to the alley where the officer got out of the cruiser and struggled with the suspect.
"Sadly, it's a comment on society today, you know?" Niosi said. "You're in the city, you know? Sad to hear it."
A motive in the attack remains unknown, D.C. Police Chief Cathy Lanier said. She said in a release that authorities have been urging members of the police force to remain vigilant at all times.
"While we do not have any information at this point on the motivation surrounding today's attack, this situation underscores the need to always maintain a very high level of situational awareness while we are working," Lanier said in a release. "Recent incidents targeting uniformed law enforcement officers in Quebec, New York City, and now to one our own here in Washington, D.C. are reminders that we must always be ready for any eventuality."
Officers were going door- to-door in the area, searching for the suspect. The assailant will face felony assault charges once apprehended.
The incident comes just days after two NYPD officers were injured in an attack by a man with a hatchet in Queens, reported NBCNewYork.com.
A $10,000 reward is being given for information that leads to an arrest in the D.C. incident.