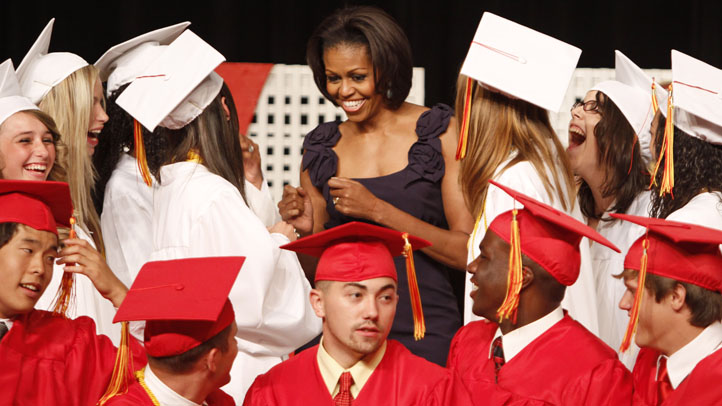 First Lady Michelle Obama told the tiny graduating class of Quantico Middle/High School that they should treasure the resilience they have developed as military kids.

"You all have the maturity to understand that your parents are part of something far bigger than themselves, or you, or your family. You understand that their service keeps every single American safe," she told the graduates.

Mrs. Obama spoke Friday night at Quantico Marine Corps Base to the high school's 27 graduating seniors as well as nine other seniors from military high schools who were displaced by the
Japanese earthquake and tsunami.

Obama, who received a standing ovation, said the stress, upheaval and diversity of military life has made those families stronger and the graduates better prepared for their future.

"Unlike some of your civilian peers, I don't think any of you are going to panic about having to do your own laundry or cook your own meals when it's time to leave home," she said.

Quantico is last of three commencement addresses this year from Mrs. Obama. She already spoke at the University of Northern Iowa and Spelman College, and also at a graduation banquet at West Point.

Each of the 36 graduates received their diplomas from Obama personally, along with a hug and a photograph. The tall Obama drew laughs as she dramatically stooped to pose with some of the
graduates.

"It's just hard to describe how much it means to military families to have 27 graduates recognized by the commander-in-chief's wife," said the school's valedictorian, Brannon Niblock, who will enroll in the Merchant Marine Academy in the fall.
Copyright AP - Associated Press