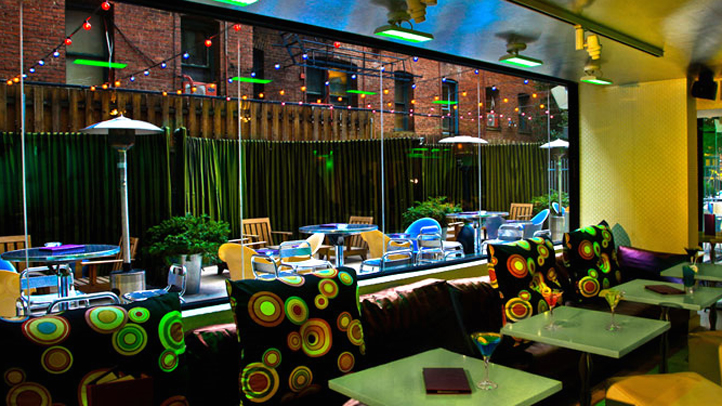 The Academy Awards are this Sunday night, and if you're not planning on guarding the coach with a bowlful of tortilla chips (a totally respectable plan, by the way), we have three alternate plans for you.
First, the swanky: D.C.'s "only official Academy-sanctioned viewing party" is Oscar Night D.C. at the National Museum of Women in the Arts (1250 New York Ave. N.W.) from 7 p.m. to midnight. Grab your fancypants -- dress is black tie -- and enjoy an open bar, hors d'oeuvres and a notable guest list. Tickets are $100 for general admission, or $175 for VIP (of which $75 is tax-deductible). Proceeds will benefit the American Red Cross of the National Capital Region.

Second, the you-don't-have-to-smile-ironically-when-ordering-themed-drinks, but-it-totally-doesn't-hurt: Helix Lounge(1430 Rhode Island Ave. N.W.) hosts an Oscar Night Happy Hour with themed drinks and up-close red-carpet action on their 46-inch flat-screen TV from 5-11 p.m. Specialty cocktails include the King's Peach (Absolut Peach Vodka, peach liqueur, splashes of sour and Sprite; $7) and the Black & White Swan (Absolut Vodka and Kahlua on the rocks with light cream; $7). If you're hungry, you might "like" a half-price Zucker-Burger ($6).
Finally, the I-knew-the-winners-this-whole-time, this-event-is-below-me: The Washington Film Institute throws a black-tie-optional Oscar viewing at Georgetown's very own L2 Lounge (3315 Cady's Alley N.W.), where you can share your "100 percent correct" predictions with a winner-takes-all Oscar pool! This "Art Soiree" features five huge flat-screen views of the event, a special performance of movie music by string quartet Singing Strings D.C., and a "Best Dressed" contest, complete with prizes, drinks, and hors d'oeuvres. Tickets are $25 in advance and $30 at the door.
---
Let's Go Around Town: Keep up with what's happening in the D.C. area anytime, anywhere. Follow us on Twitter and Facebook. Sign up for our e-mail newsletters and find out What You're Doing Tonight with texts delivered right to your mobile phone -- just text DCTONIGHT to 622339 to sign up. (Message and data rates may apply.) Don't forget our iPhone app!